Dead tour has been a long time coming – a very long time.  For better or for worse the COVID-19 situation has made the past year and a half fly by, it's hard to believe the last time I saw Dead and Company prior to 2021 was New Year's Eve 2019 in San Francisco.
Having just moved out to the San Francisco Bay Area (more on that soon) the visit back to the Midwest was a welcome relief to some of the unfamiliarity and clutter that moving somewhere over 2000 tends to do.
Dead and Company were back at my home venue in Indiana, the infamous Deer Creek Music Center (the current official flavor of the venue is Ruoff Home Mortgage Center), and back again at Wrigley Field marking my 5th and 6th times seeing the band at one of the most infamous baseball stadiums in the world.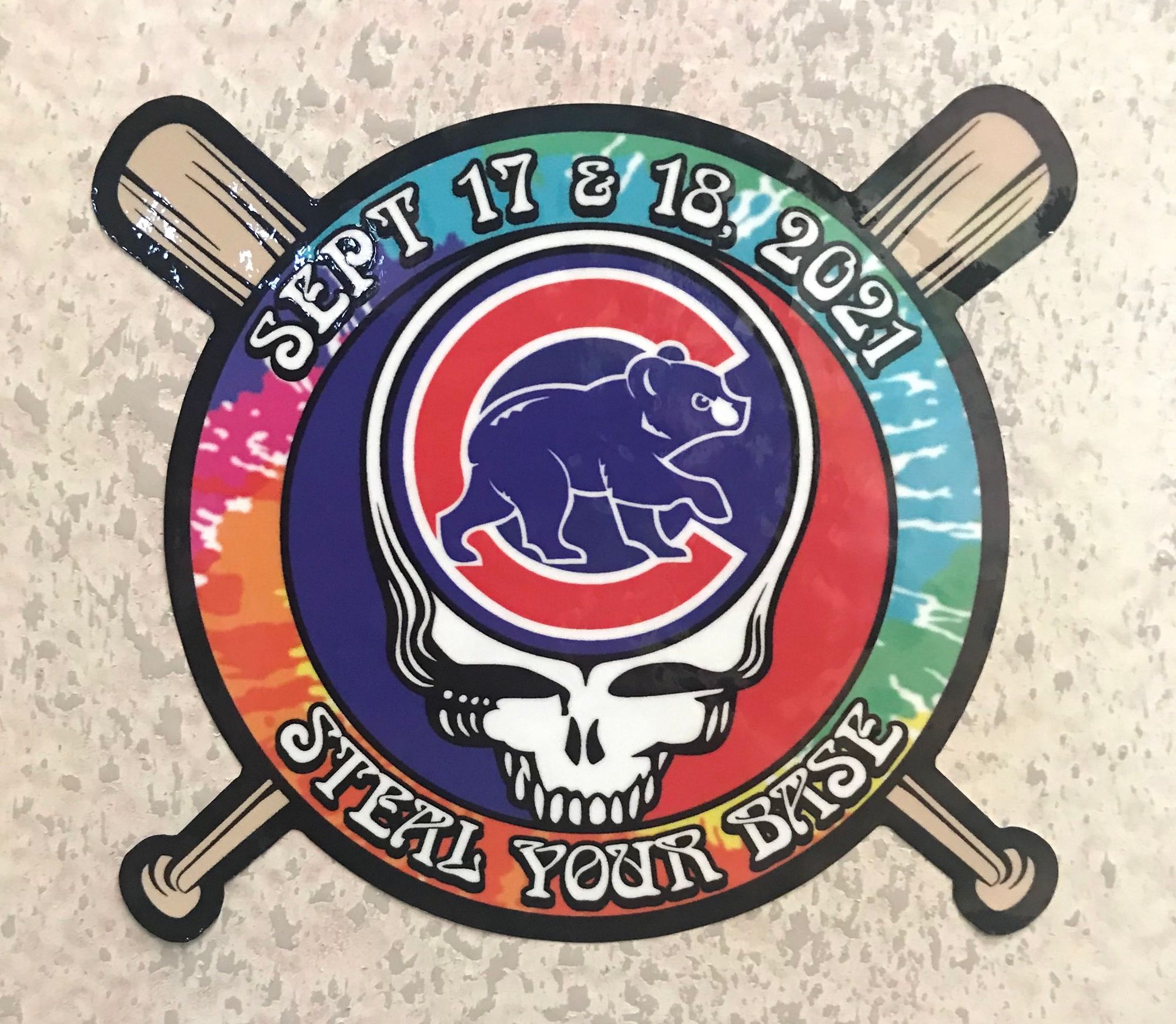 Deer Creek
I was lucky enough to score pit tickets for Deer Creek and night 2 of Wrigley – my first Dead and Company pit experience was at this same place in 2018.  All gatekeeping aside, it almost doesn't feel worth it to not see the band that up close once you get that taste.
Something about Deer Creek just brings out the music's best – I truly believe it.  The first set started with a killer Feels Like a Stranger – a song I feel does a great job balancing both Bob's vocals and John's energetic guitar playing to get the crowd going.  I thought the first set was essentially immaculate.  Dire Wolf, a song the band played during their last appearance in Indiana if I'm not mistaken, is a favorite of mine and a song I think this iteration of the band does a fantastic job on.
The only blip that I think could be argued was the band going into If I Had the World to Give so soon.  I love that song and Oteil's rendition but I can't help but feel like it zapped some of the momentum from the show's early acceleration.  The first set closed with quite possibly one of my top 5 Dead songs, Big Railroad Blues – a song I specifically feel like shows some of Jerry's best, particularly in the early 70's.
The second set was perhaps a little more fantastically magical than the first set and meshed great with the sun having now set.  The Dark Star > St. Stephen > The Eleven > Drums/Space > Dark Star was pretty shocking in all honesty.  It always feels nice to witness such a unique sequence of songs at a place that's not somewhere huge like San Francisco, New York, Chicago, etc – a small suburb of Indianapolis with a 60,000 person population can still get blessed just as often.
Another one of my favorite Dead songs, and in my opinion one of the best-written songs by Garcia and Hunter, Black Muddy River closed out the show in fantastic fashion – nothing short of a blissful end to a memorable and much-needed return to large live music shows in a post-COVID world.
Wrigley Field Night 1
The first night at Wrigley was a bit of a clusterfuck, in the most literal sense of the word.  My brother and I were only in our field seats for about 30 minutes before a small storm cell coming West could be seen on a collision course right for Wrigley Field.  Before the show had even begun, we were told to evacuate the field and head indoors.  In one of the most claustrophobic moments of my life thousands of people headed inside why the skies absolutely emptied on the field.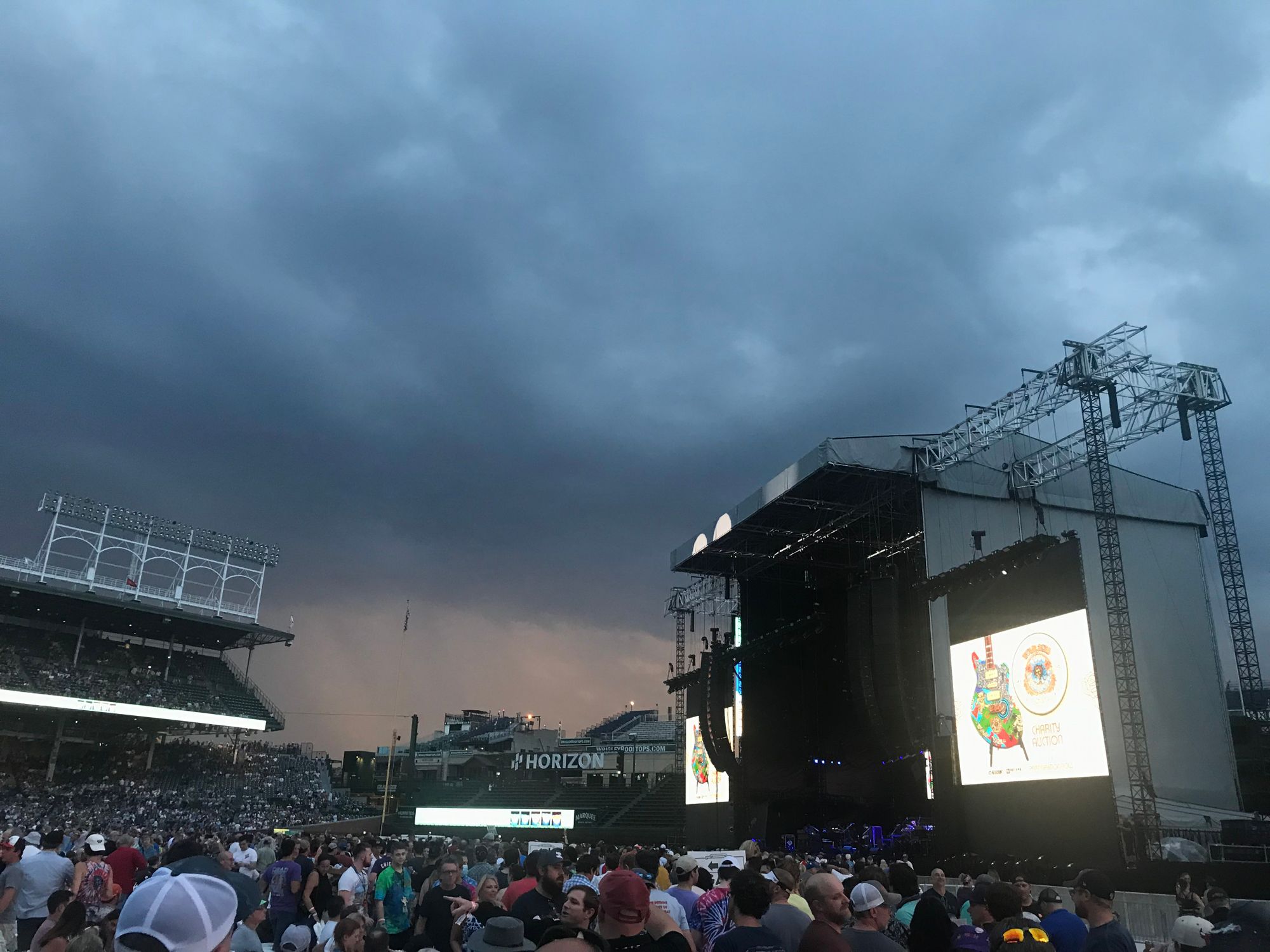 There was literally no way to take a single step once inside.  We were all just packed like sardines and waiting for the all-clear to head back to our seats.  I truly feel for anyone who may have been tripping or perhaps too high in this situation – an extremely stressful experience for anyone.  And oh yea, this miserable packing of people happened twice due to two rain delays.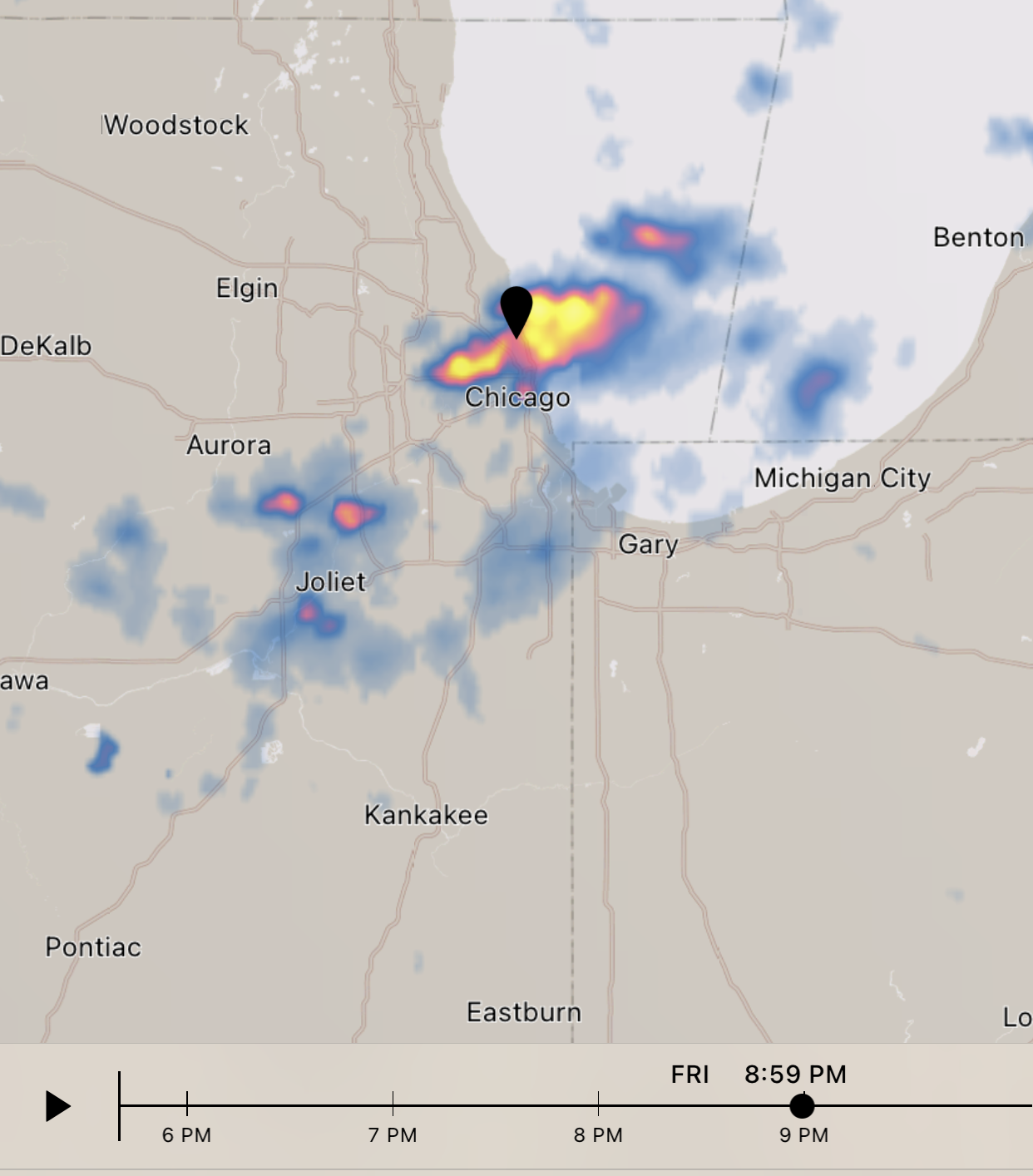 Eventually, the skies cleared up getting things back on track marking the end to an abbreviated first set and starting set number two – the music never stops.
Dancing in the Street, was a fantastic song to open up round two – the crowd went nuts with Bobby belting "Dancing in Chicago".  You can never be upset with how a Dead show goes, it's inevitably going to be a positive experience and something you were glad to do.  I don't know if it was just the two miserable and wet rain delays prior but the second set really didn't blow me away.  In some regards, I was happy they were potentially saving a lot of the magic for night 2 but the rest of the song choices after Drums/Space just aren't songs that I am particular in love with, at least in a live setting.  I think night 2 of 2019 at Wrigley Field was also closed out with Ripple.
Wrigley Field Night 2
After the night prior it had to be something special tonight.  The skies were clear, I was about 20 feet away from Jeff on the left side of the pit and had about 10mg of THC en route to my brain – things were looking up.  I met an older lady next to me who wound up living about 20 minutes away from our new digs up in Marin County – of course, the Bay Area is going to travel well for the band.
I wasn't sure if I was just so hyped to be so close in the pit after the prior night's weather debacle, in-the-pocket high, or a combo of both, but from start to finish this show felt like it was intentionally special.
The Althea opener was welcomed by me and felt very appropriate vibe-wise on the clear Chicago evening.  For whatever reason, it felt like a lot of songs that I associate as "set 2 songs" were played in the first set tonight – not only Althea but an amazing rendition of one of my favorite Dead songs He's Gone and a killer One More Saturday night as well (I'm glad they didn't choose to encore with OMSN, so clichè).
I don't know if the choice of songs in the first set is what made this show feel a little more mysterious or delightfully unfamiliar, but I'm here for it.  Dead and Company are generally fantastic but I feel as though changing up the formula can only be a good thing.  The guys are getting older and it's clear Bobby doesn't feel comfortable with as much variation in songs these days.
Despite historically living in Indiana and having seen more shows at Deer Creek, Wrigley Field and Chicago almost feels like the authentic vessel of my Dead concert experience.  Living on the west coast has definitely changed what's close in terms of proximity for traveling my usual venues but I think as long as the Dead makes the trip to Wrigley Field, I will too – it's just too magical to pass up. 💀🌹⚡