Marrakech was probably the city I was most stoked for in Morocco (or Maroc, as it's known within the country).  I had heard the name Marrakech  through various mediums my whole life, but didn't really know much about it before researching for this trip.  While not the biggest or oldest city in Morroco, Marrakech is one of the centerpoints of Moroccan culture and tourism.
We arrived at our riad, Dar Tasnime, in the afternoon, and after getting our first taste of mint tea and the extraordinary Moroccan hospitality, we set out foot into Marrakech — or... we tried to.  Jet lag always catches up with you — we accidentally took about a 4 hour nap and then eventually set out just before dusk to see Jma El Fnaa and get some food.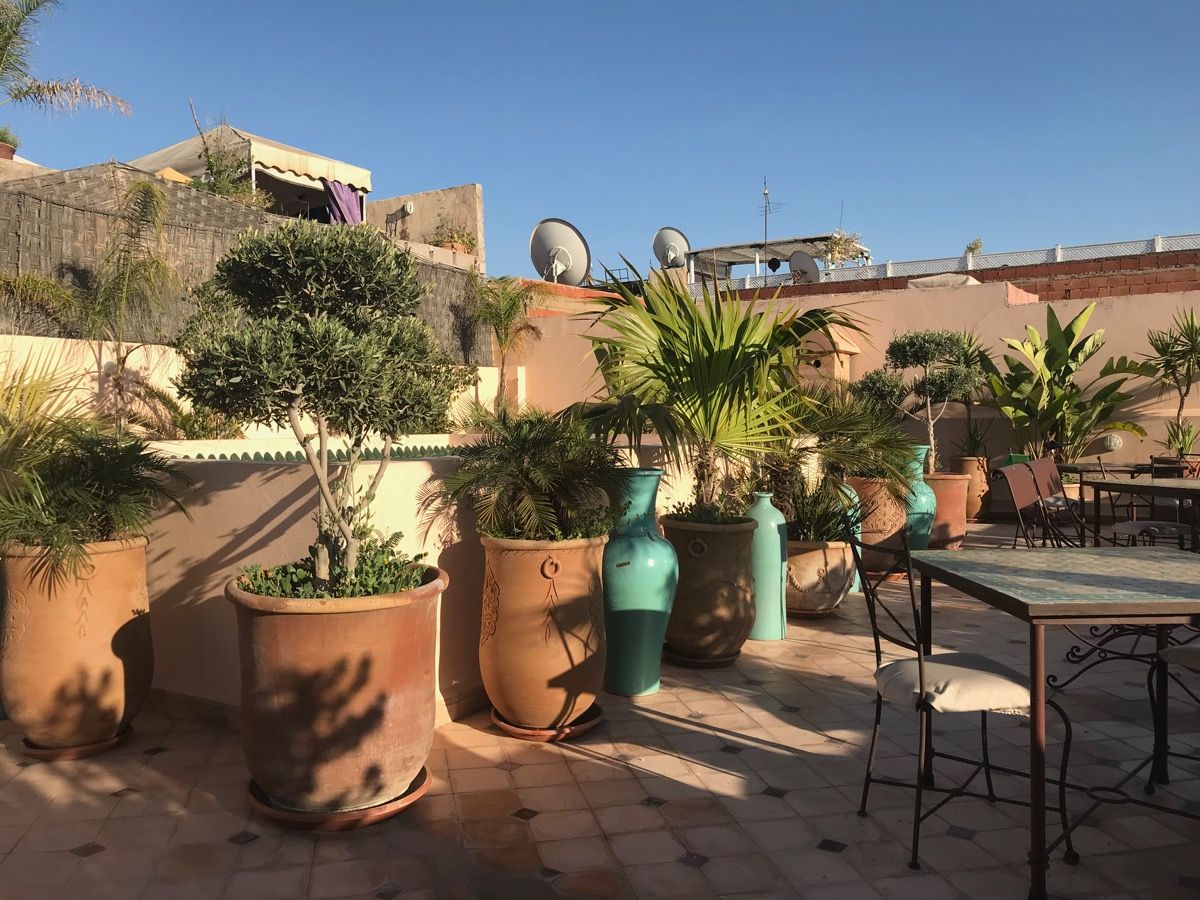 The sun was setting as we made our way into the famous square, Jma El Fnaa which by this time was starting to fill up with performers and vendors.  All sorts of music, juice booths, food stalls, families, vendors — all things that define current Moroccan civilization.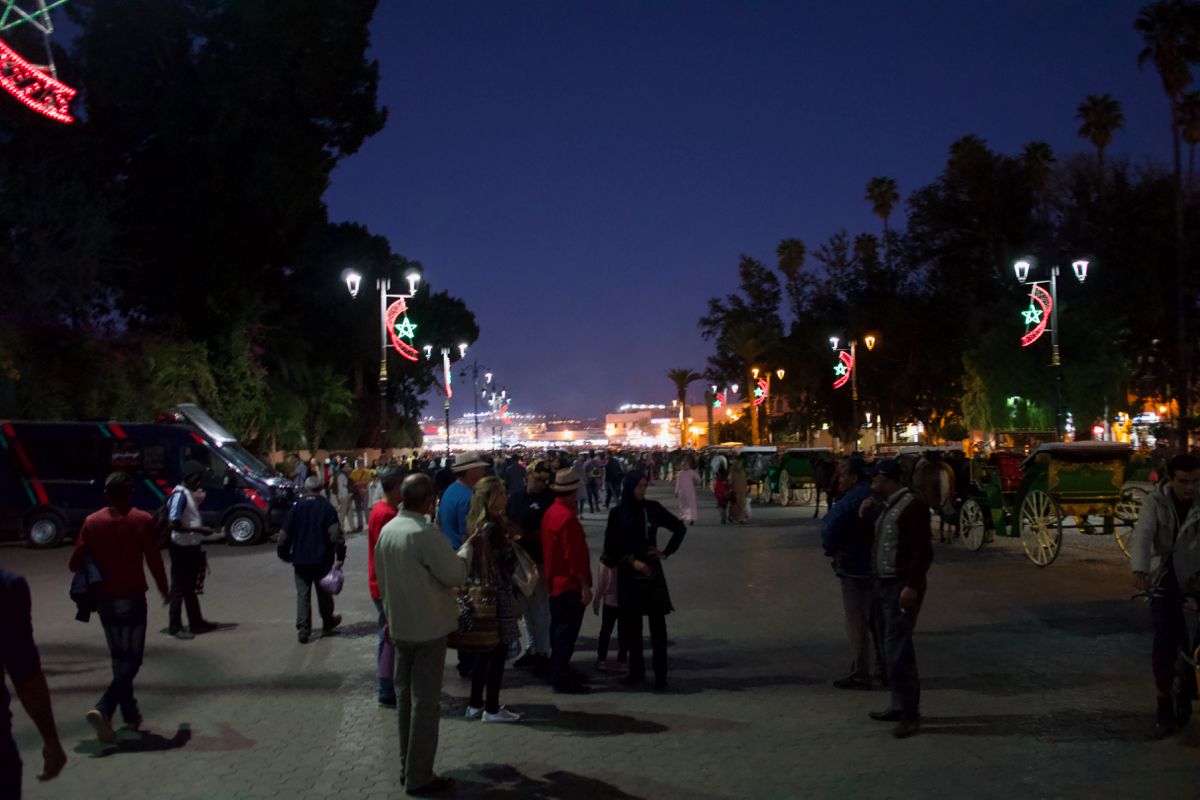 We heard so much about the infamous food stalls, and while it's an absolute must when visiting Marrakech, be prepared to be hassled like no other. A lot of Moroccan salesmen are pushy, but Jma El Fnaa food vendors were on another level, literally stepping in front of you to block your path, slightly tugging at you, etc. You're never in any real danger, but it's important to stay vigilant and stern with your replies. They won't take no for an answer, and it can get annoying as fuck sometimes. Just treat it like a game, don't take it too seriously.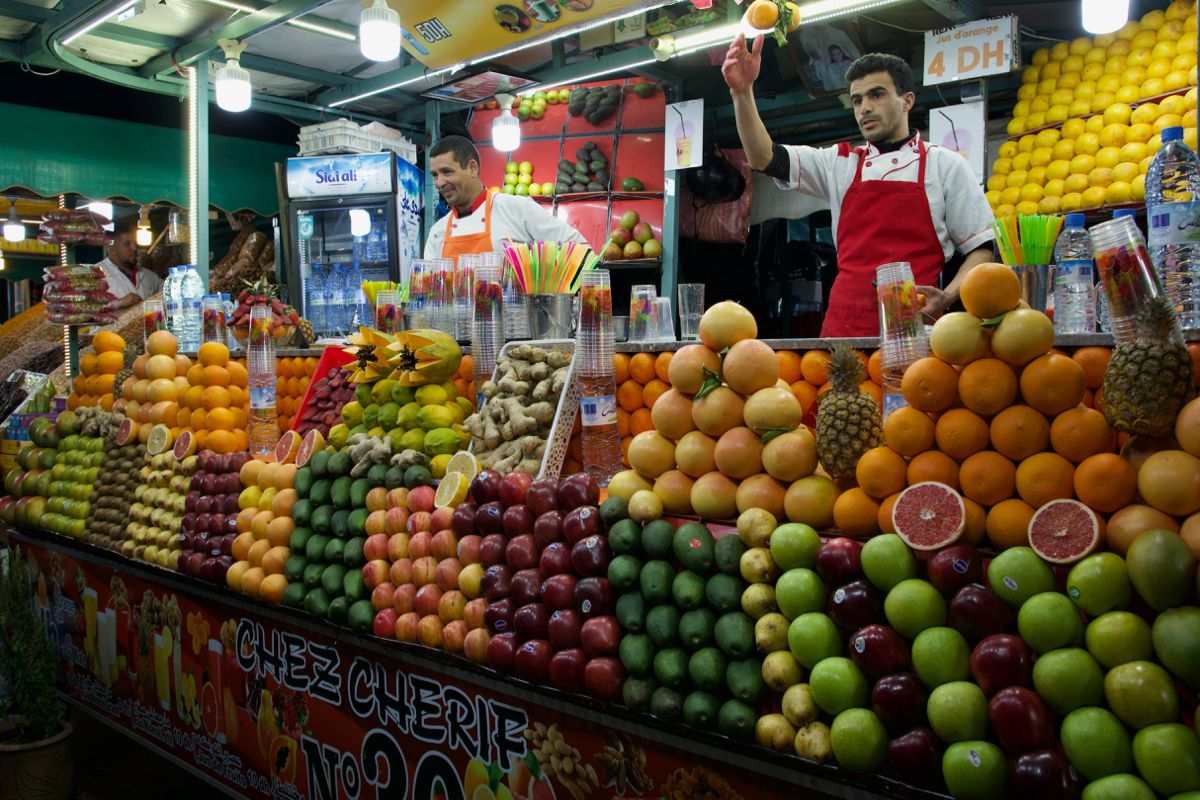 After some walking/getting sick of being hassled, we sat down at a place that looked like it was serving lots and lots of food quickly. We both ordered some variation of tagine — Morocco's signature dish — along with some blood sausage and various grilled vegetables and bread. In a fast-paced street food environment make sure you keep track of everything you order — not surprisingly we were introduced to the classic Moroccan scam of ripping off tourists at this particular stall. I let my inexperience get me here, I knew we were being charged almost double (still only like $20USD total for our meal) so I decided to just be a passive bitch and take it as a lesson learned. It was still a good meal and despite the dishonest check, the employees did their job well. Don't let this scare you away, though, show some confidence in your demeanor and do your due diligence on tracking your food prices and you'll be fine.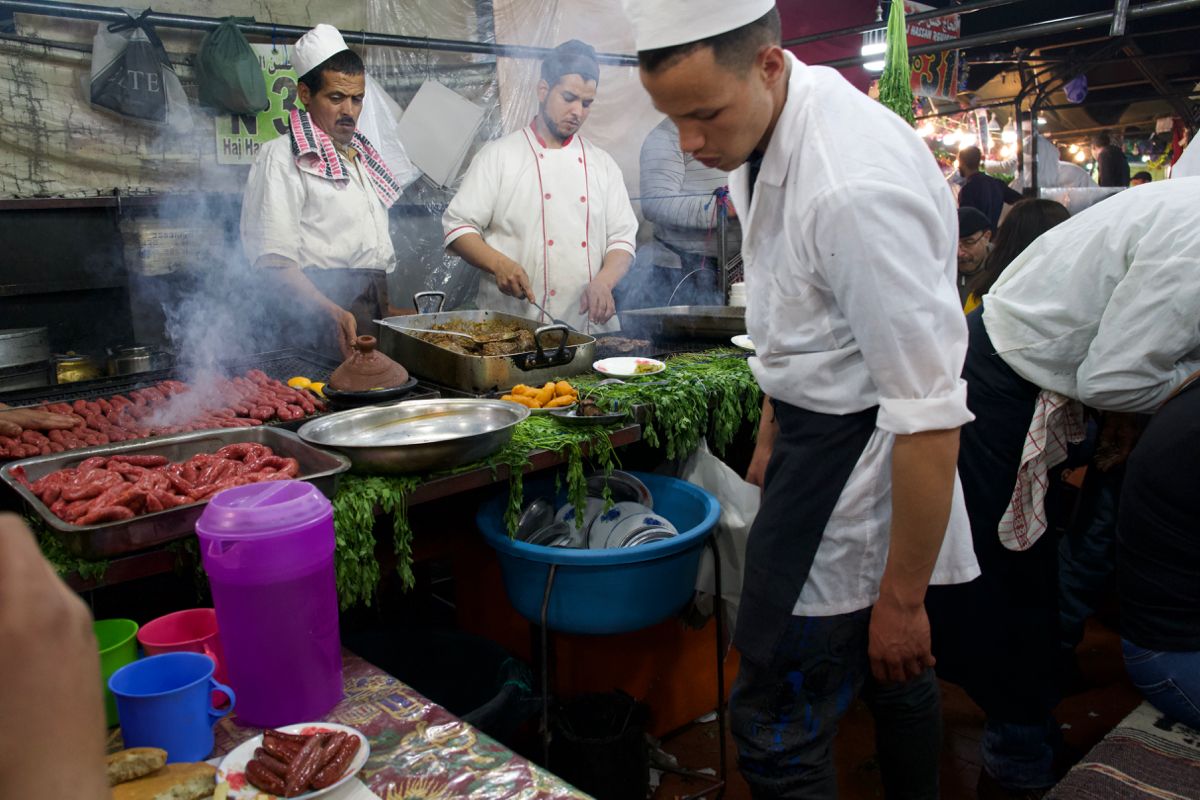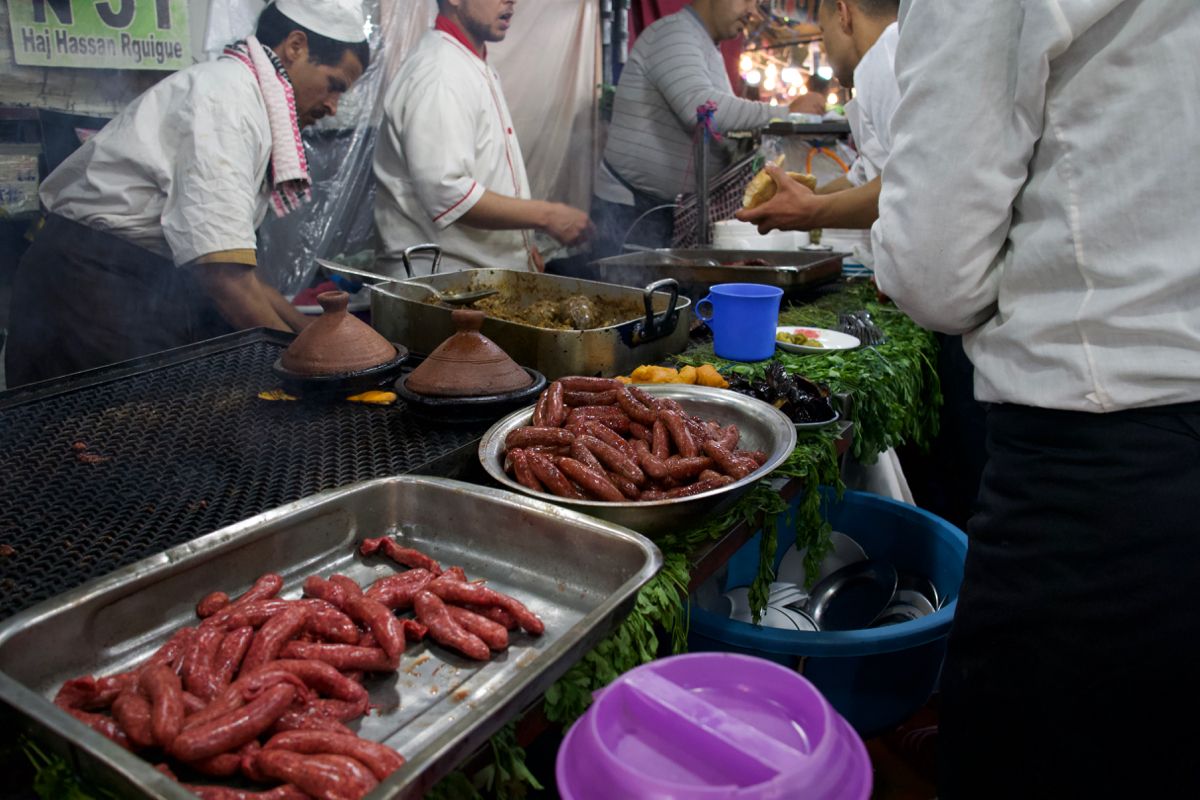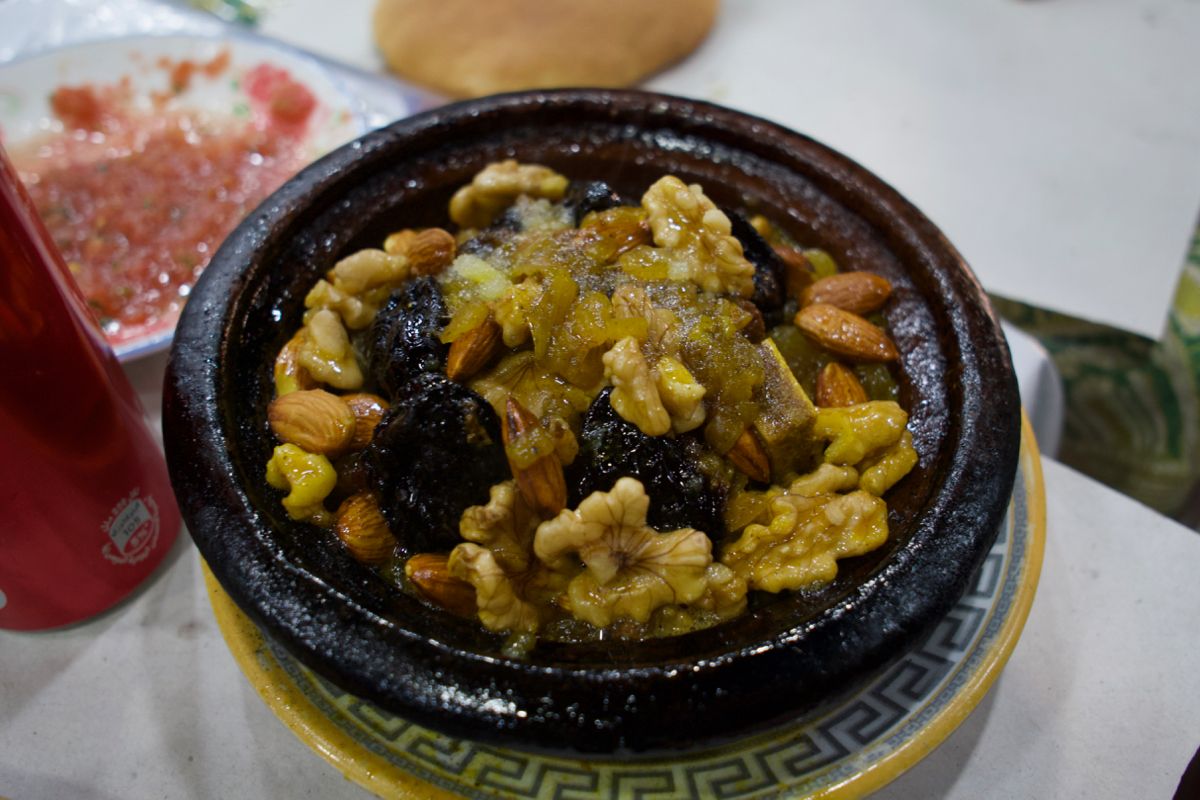 Jma El Fnaa is surround by plenty of other souks selling all sorts of items. My advice is just to walk and see where you wind up, they go pretty deep. While not as winding and maze-like as the main medina in Fes, still make sure you pay attention on how to get back to the square, or wherever you entered.
The souks are really the heart of medinas all across Morocco. While many shops and vendors are hounding for tourist dollars, most (especially food) sell the majority to local Marrakechians.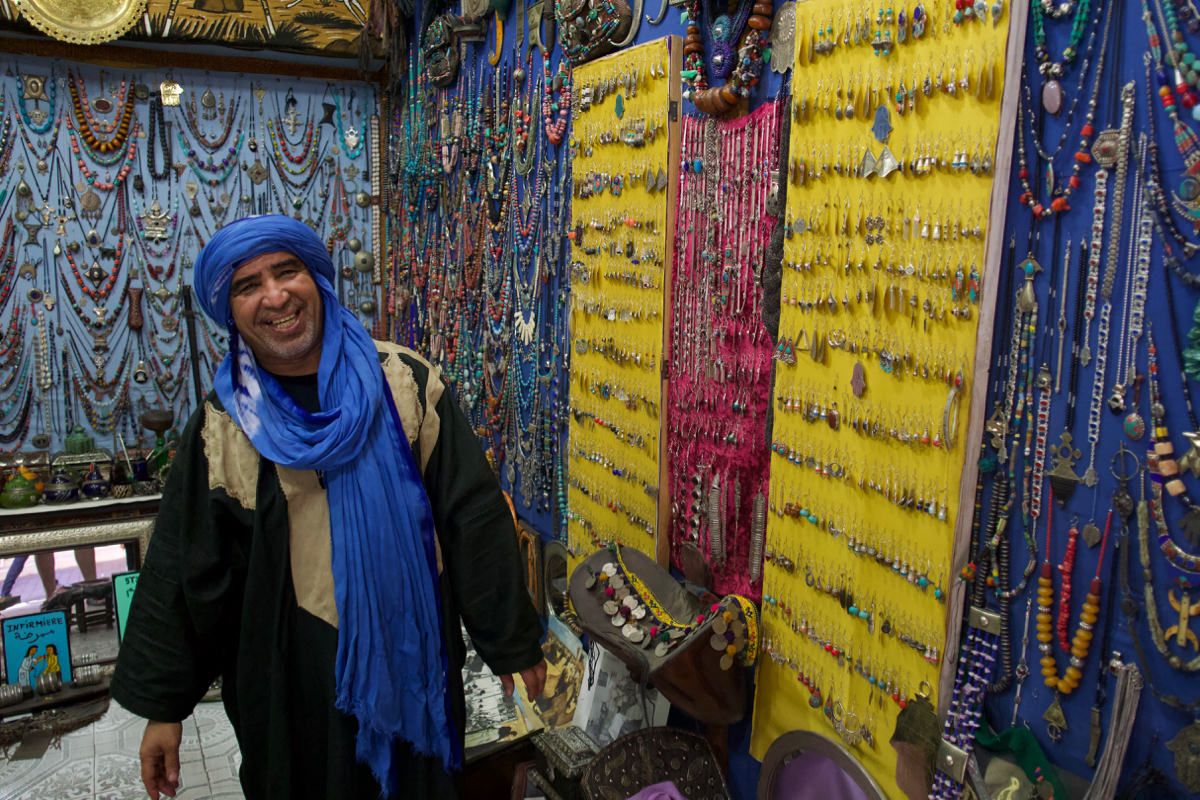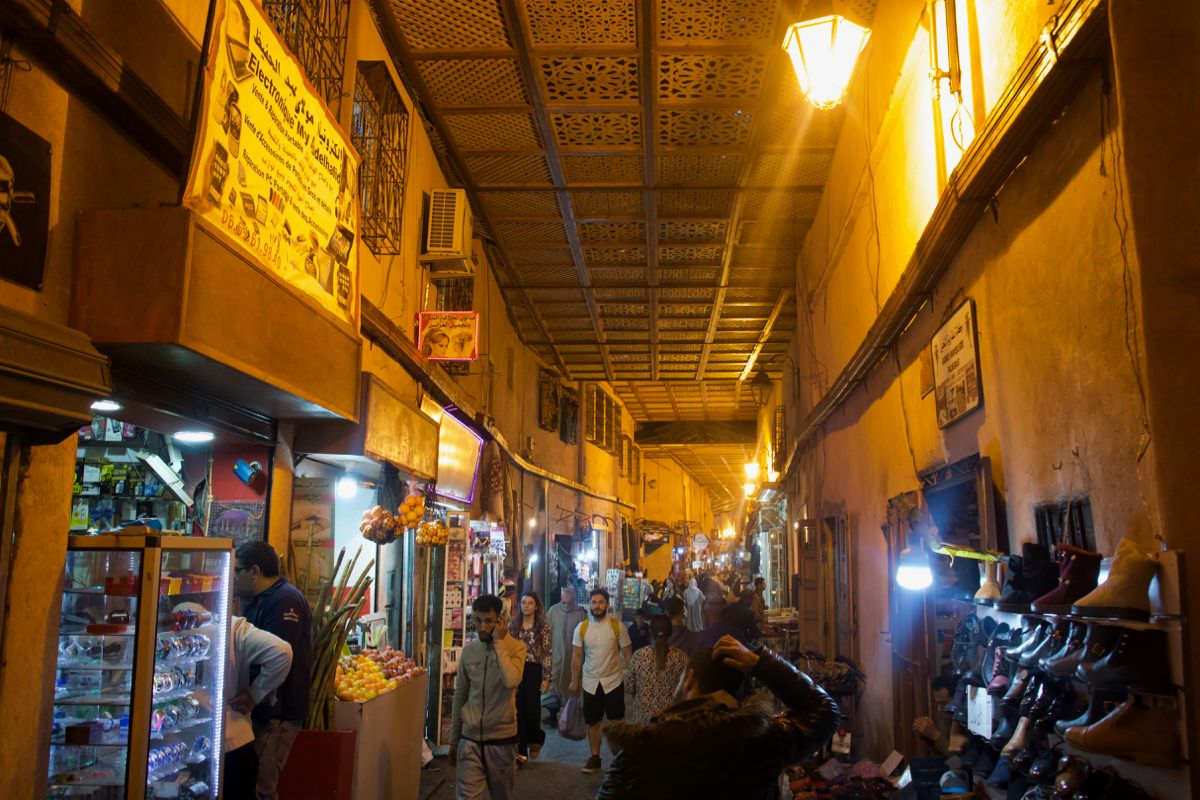 Again, the best part about Marrakech is how so many of the points to see are so close together. Just North of the mellah, A trip to Bahia Palace and the surrounding shops and mellah should for sure be how you spend a morning here. For what it's worth, we saw the best and most legit shopping spice and Argan oil shops outside Bahia Palace, not sure if this area is known for these or not, but it felt a little more "authentic" outside of the actual medina.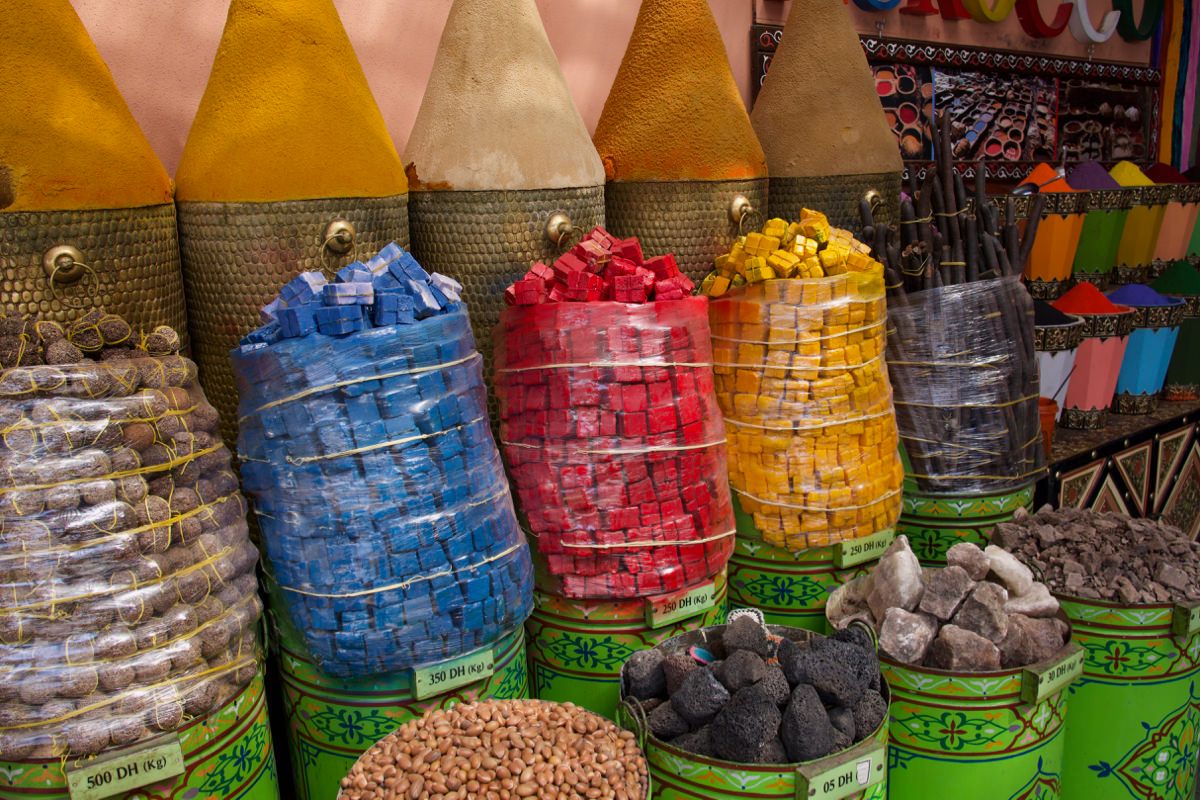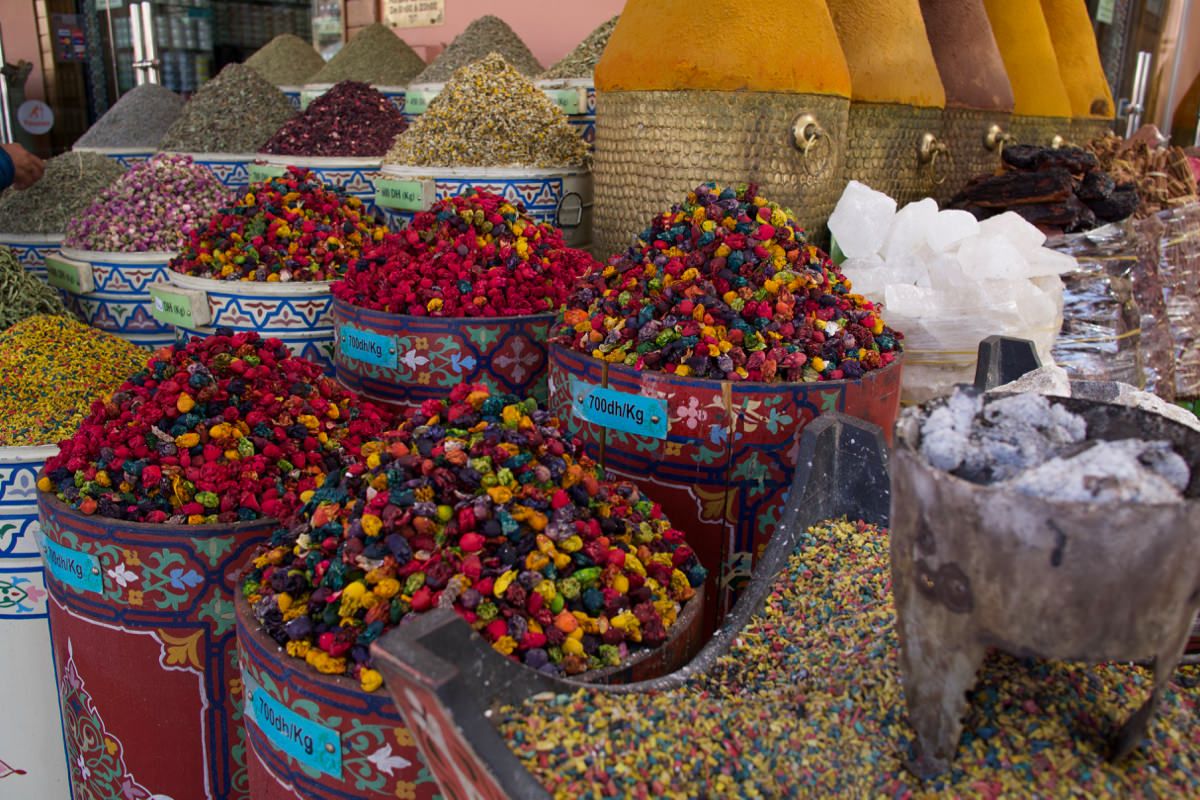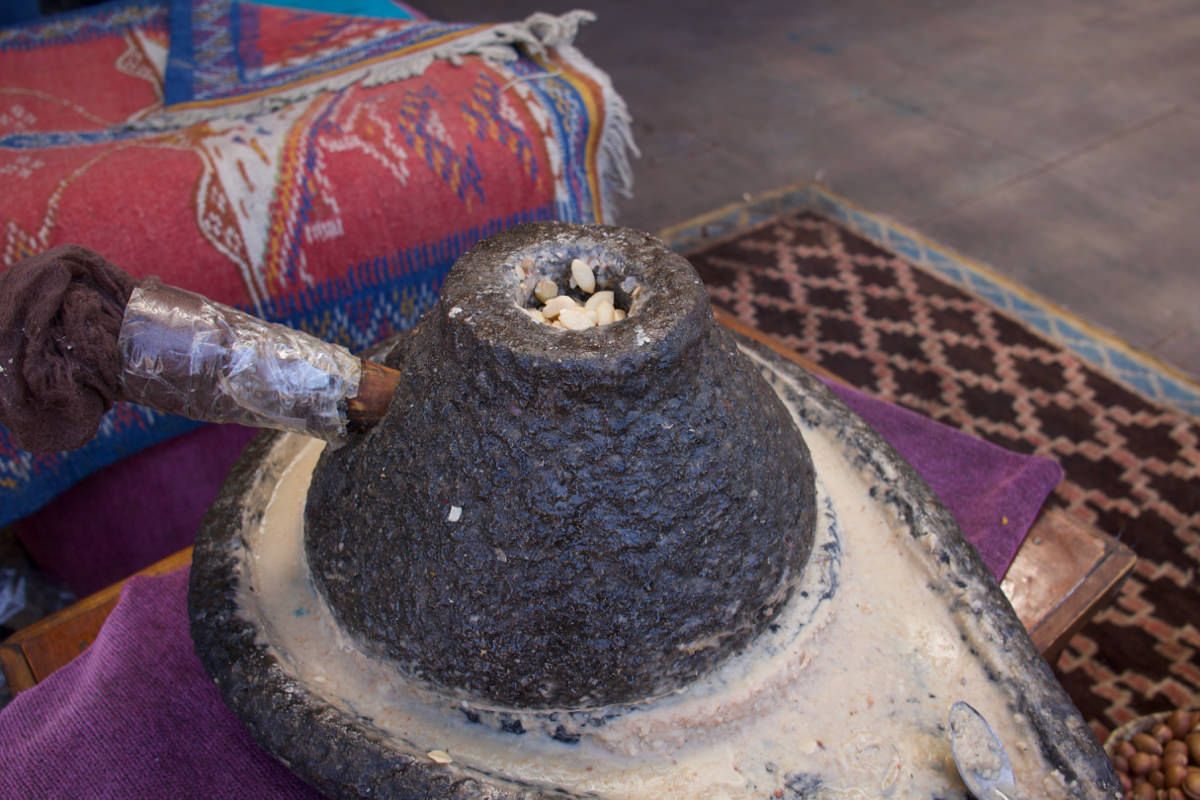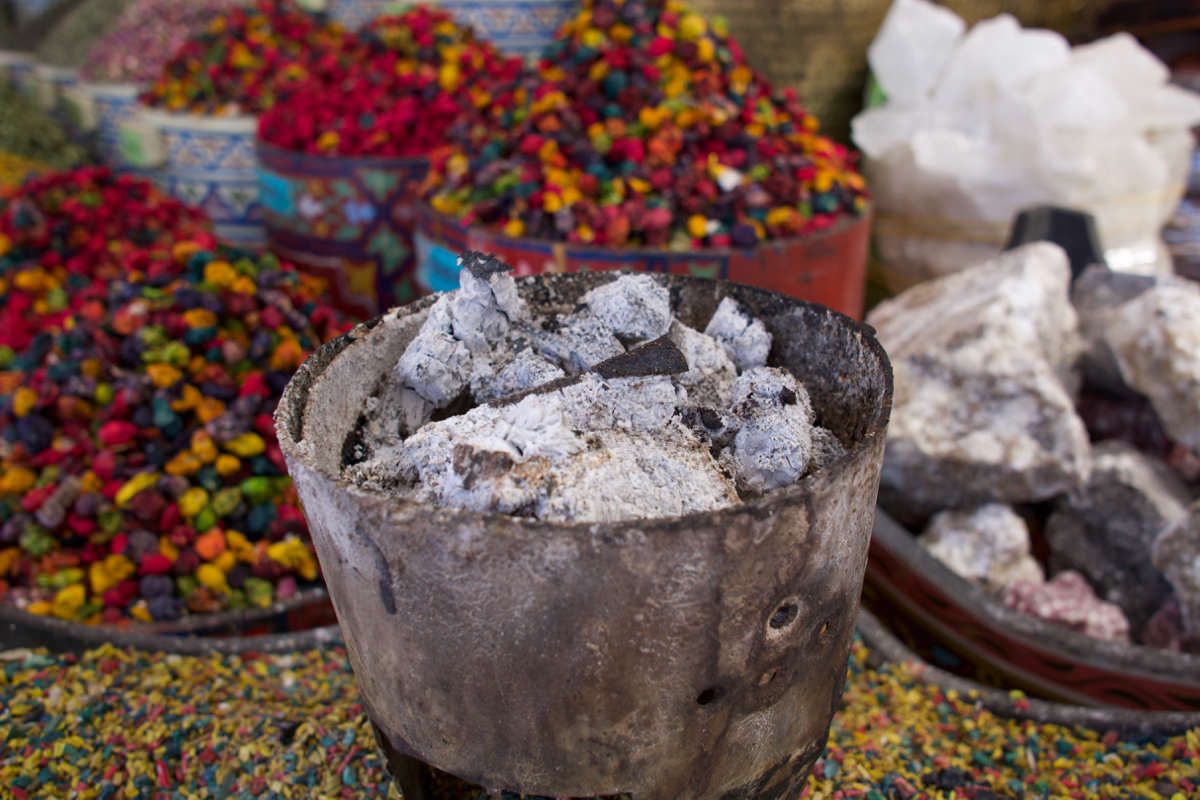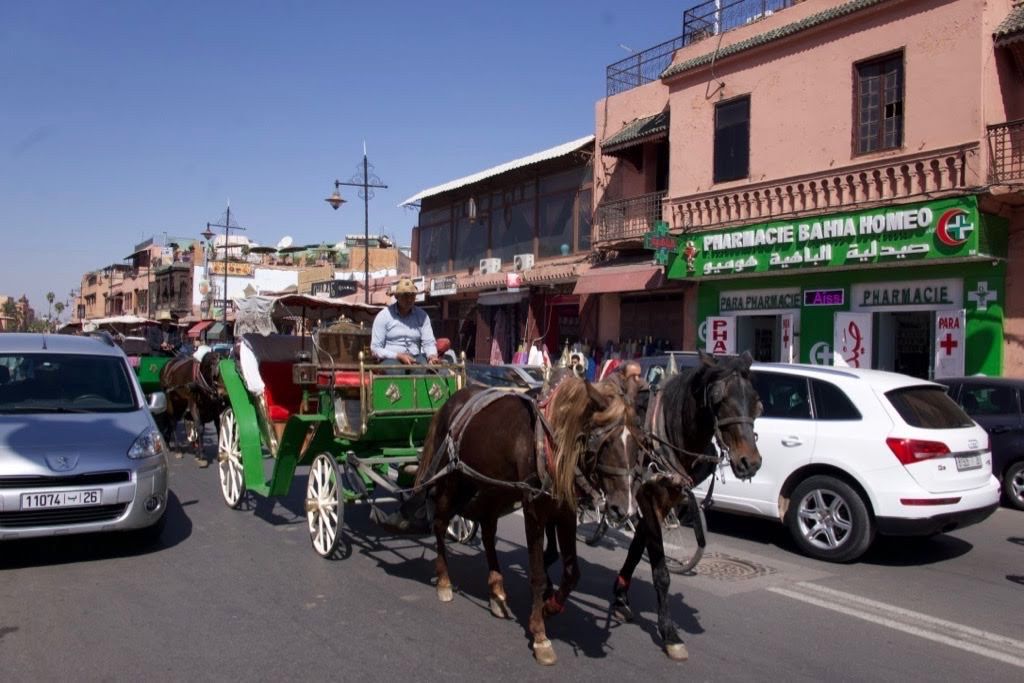 One of Marrakech's most popular mosques, Koutoubia Mosque is just south of Jma El Fnaa. It's one of the city's landmarks, and one we used quite often to navigate as our riad was fairly close to it. This was our first introduction to the powerful 'call to prayer' messages that get broadcasted through cities with the help of loud speakers on the top of mosques — one of my favorite parts of Morocco was hearing these daily, regardless of how large or small of a town you're in.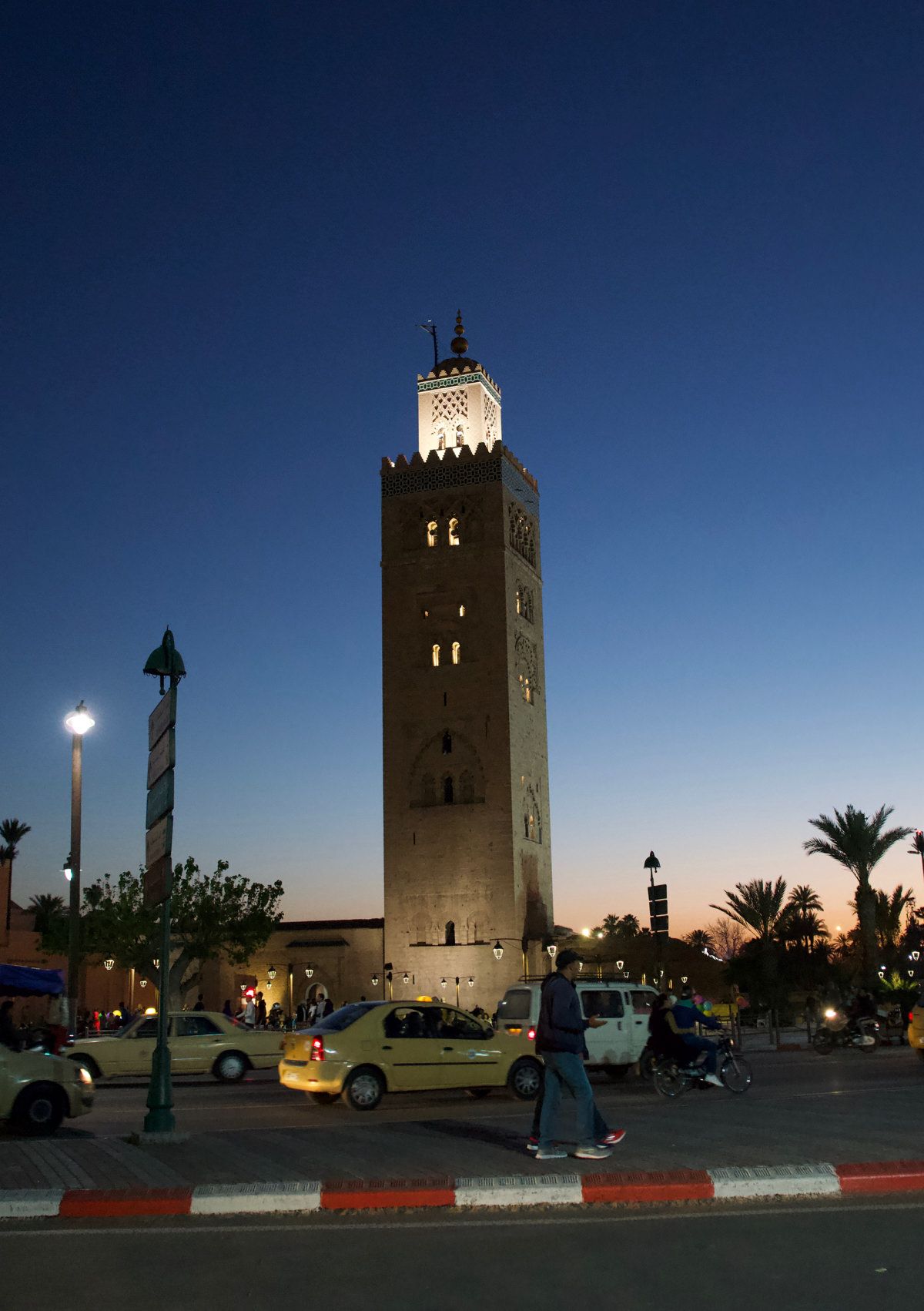 As I said before, Marrakech to us felt very walkable (we'll pretty much walk anywhere that's less than 20-30 minutes), although city taxis are widely available and very cheap. Our first full-day was spent walking northwest from the medina towards Gueliz, Marrakech's "new" city. While not nearly as impressive as what's in and around the medina, it's still cool to see what modern Marrakech has to offer. Sure, it's a lot of bogus materialistic crap like cheap clothes and fast food, but worth checking out nonetheless.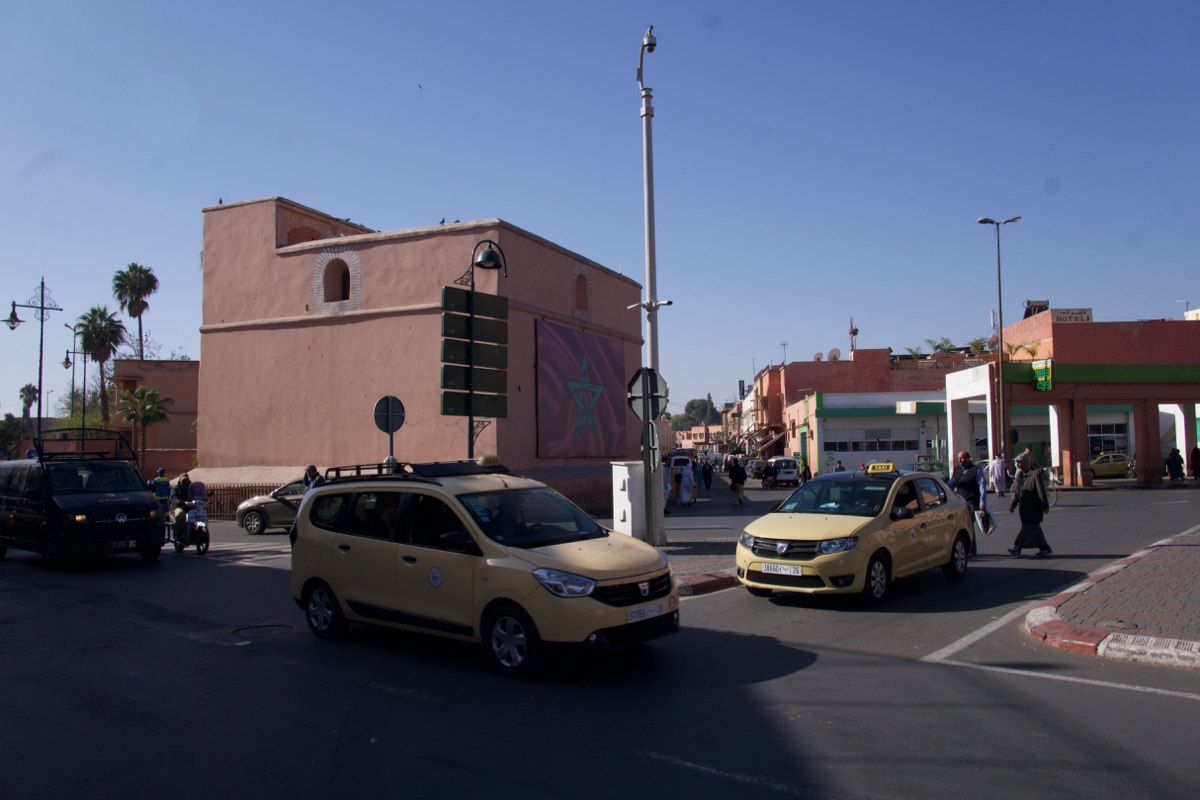 We were on our way to check out the Majorelle Garden (Jardin Majorelle), one of Marrakech's most famous attractions. It won't blow your mind by any means, but very cool to see a garden that size in Marrakech. The extra fee for the Berber museum is worth it, as well. Berbers are an important part of Moroccan history as they are the native Moroccan people that carry their own heritage outside of the modern Arabic and French influenced culture that travelers often overlook.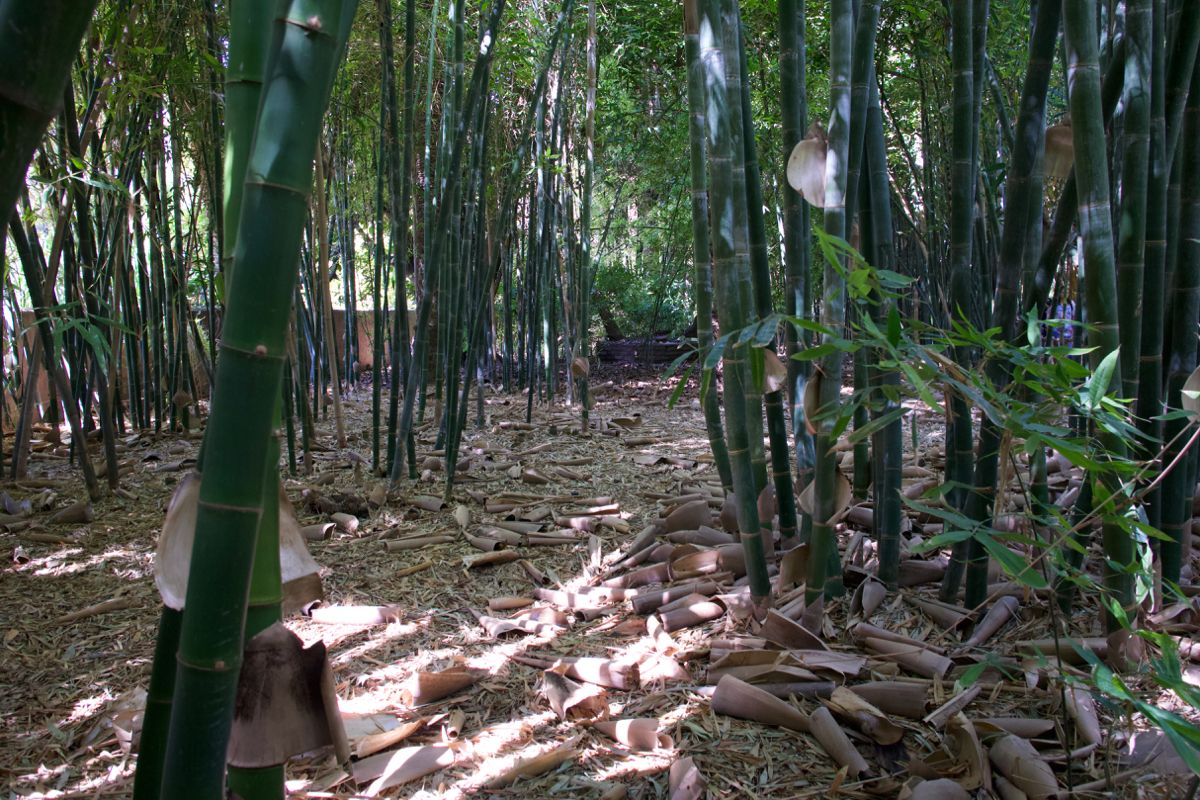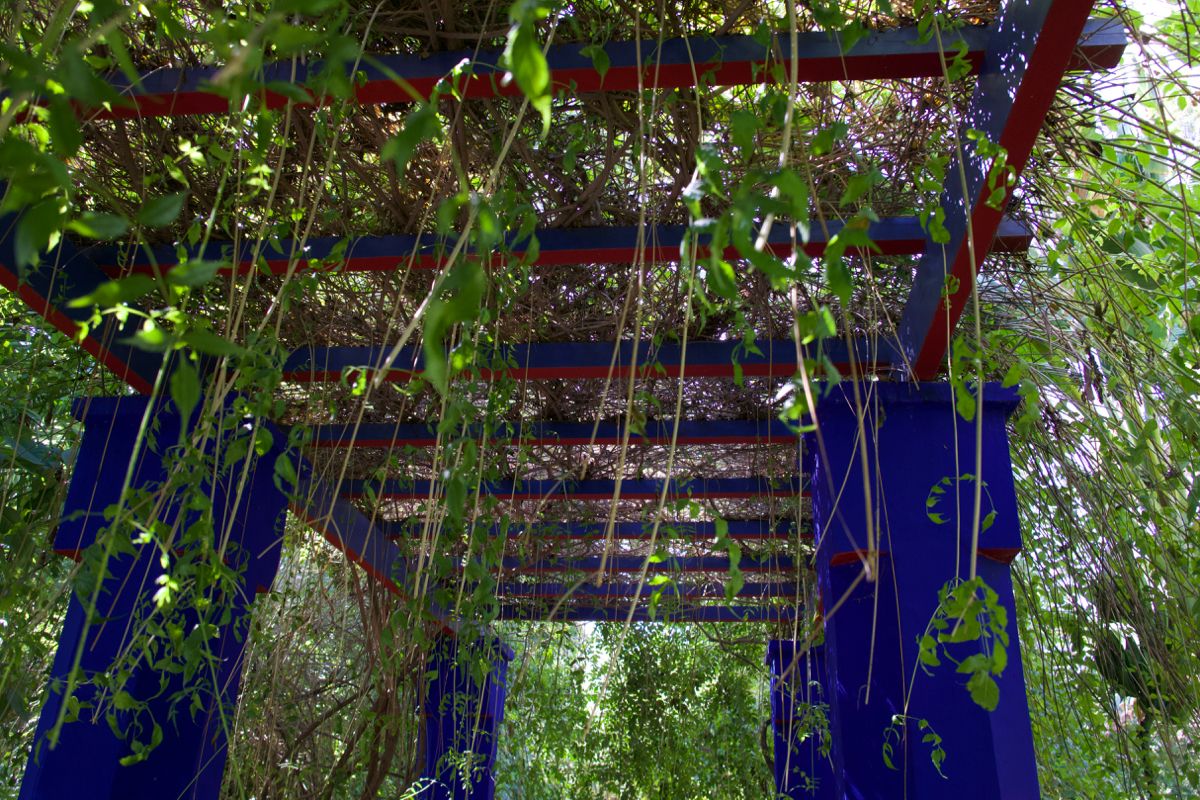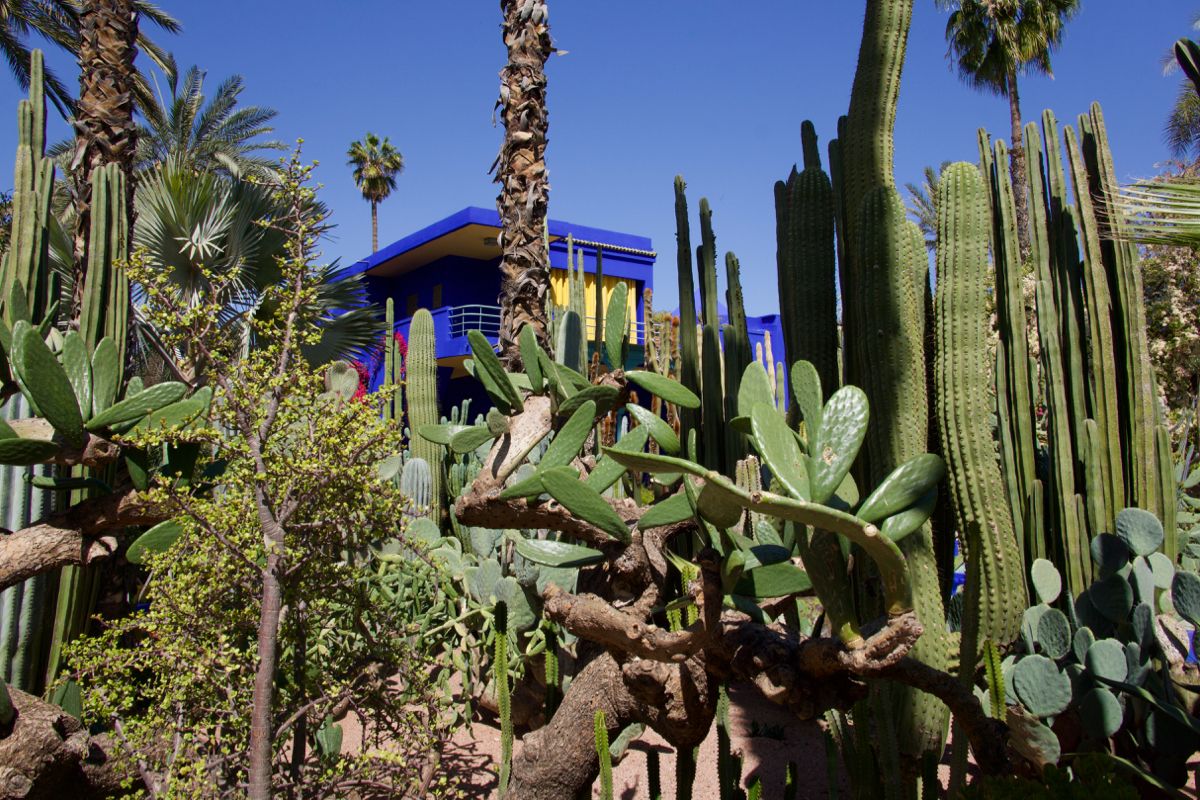 There was about a 20-30 minute line to get in at peak hours, so if you'd rather not deal with crowds, come early.
One of the more popular palaces in Marrakech, Bahia Palace is a great good peak into old Marrakechi and the overall intricacy and attention to detail of Moroccan architecture. It was pretty busy when we arrived in the early afternoon, so as cliché as it sounds, get there early or you might have trouble getting some good pictures or fighting through inconsiderate French tourists.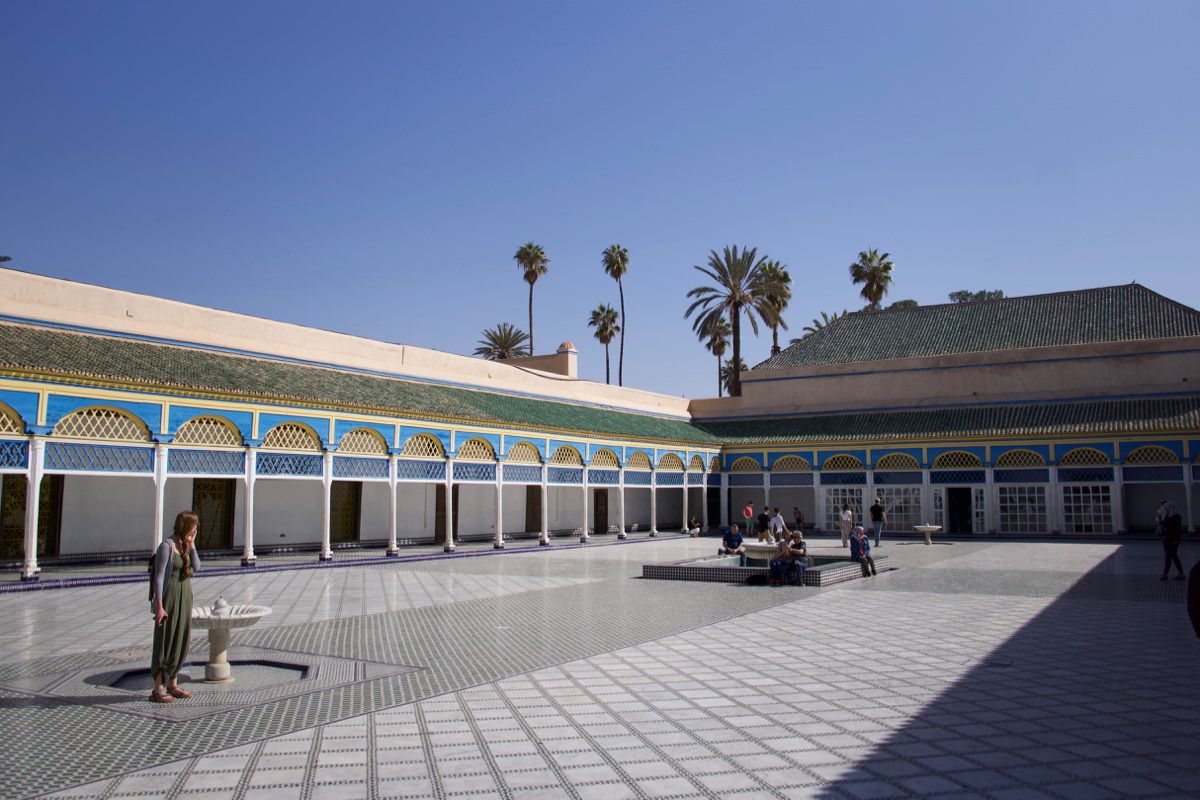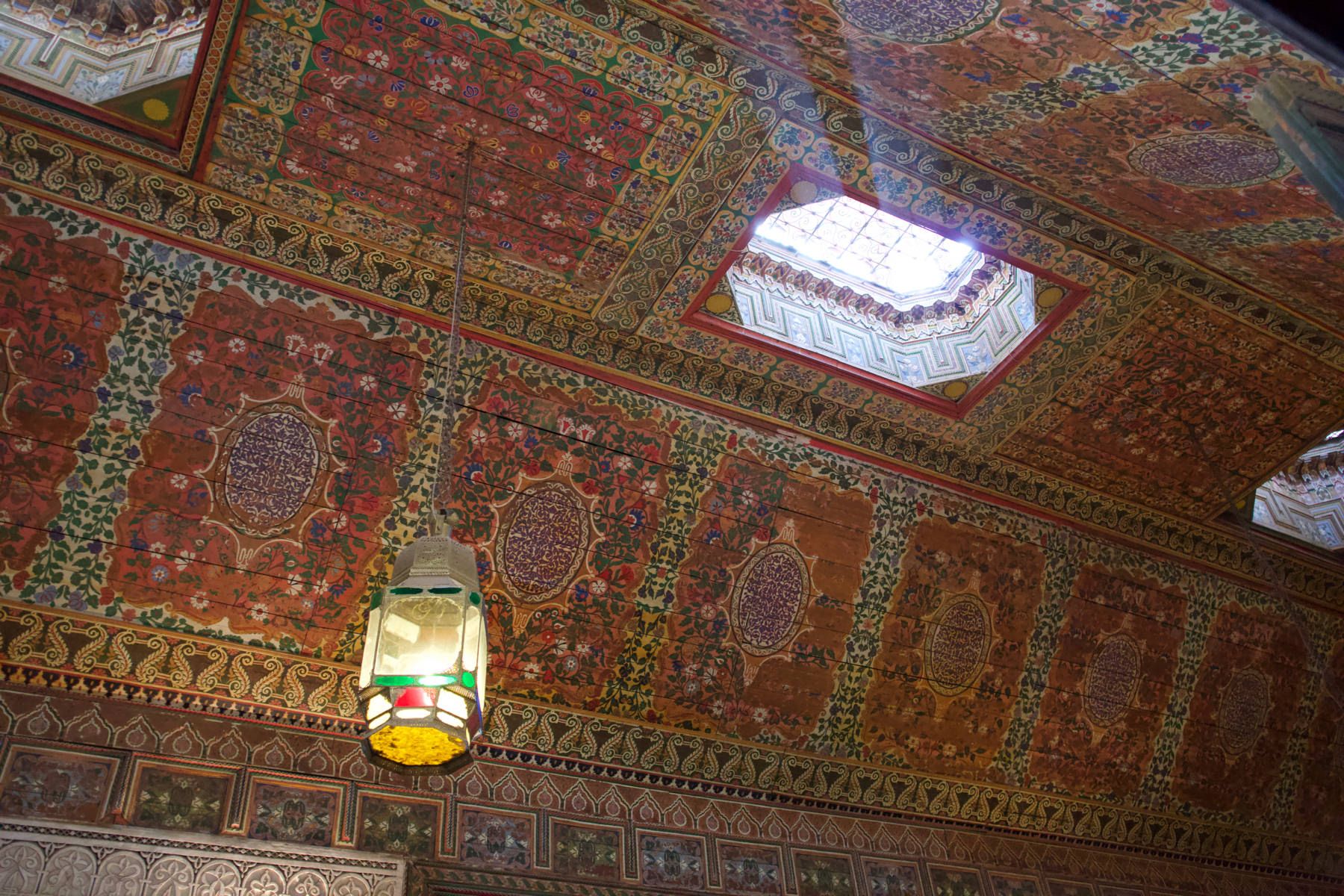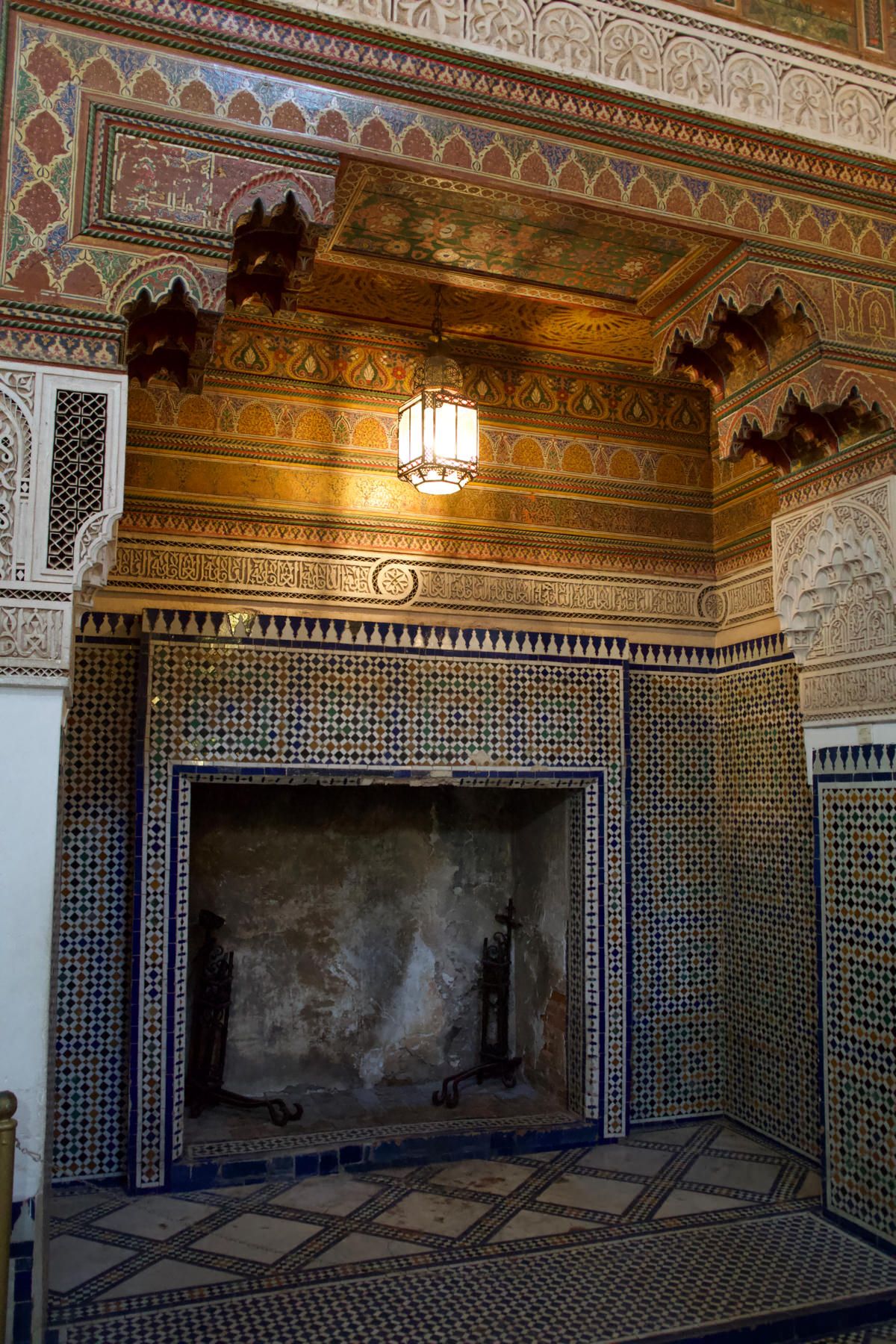 What was essentially a giant concubine in its heyday, Bahia Palace is a nice walk and 1 hour-ish experience on the south side of Marrakech's medina, adjacent to the mellah.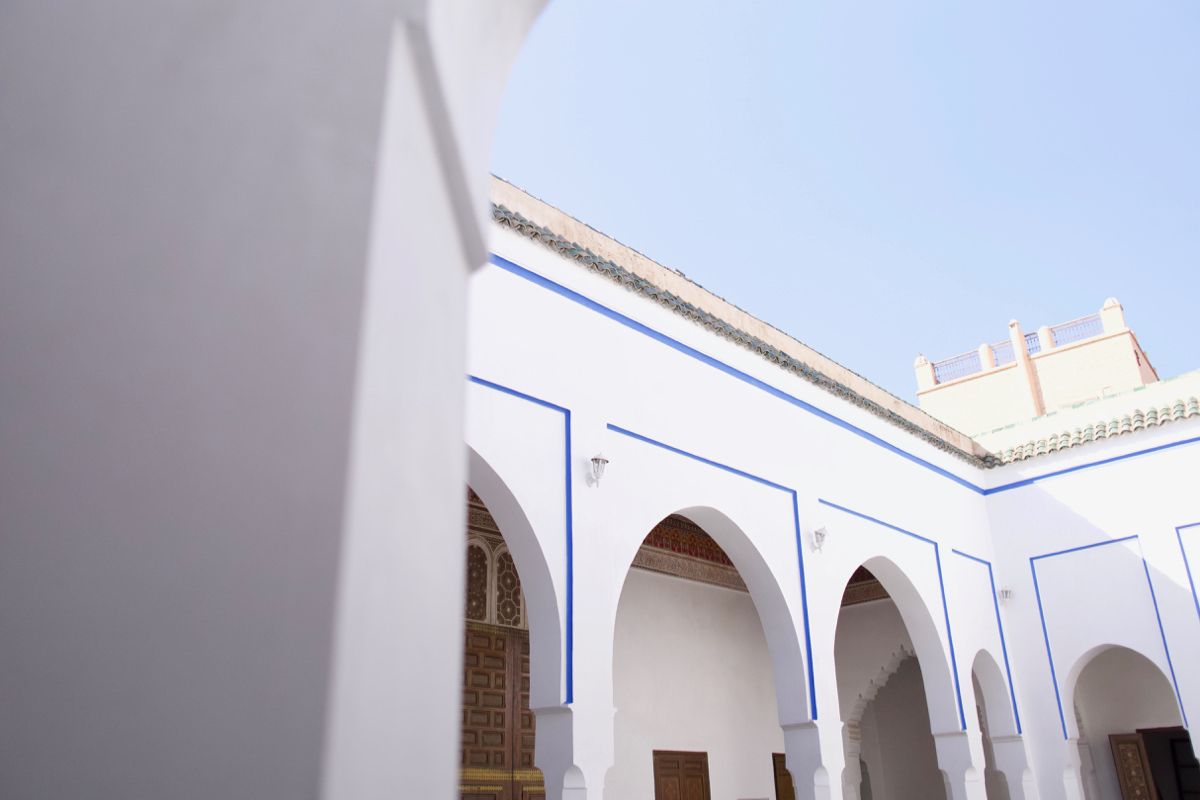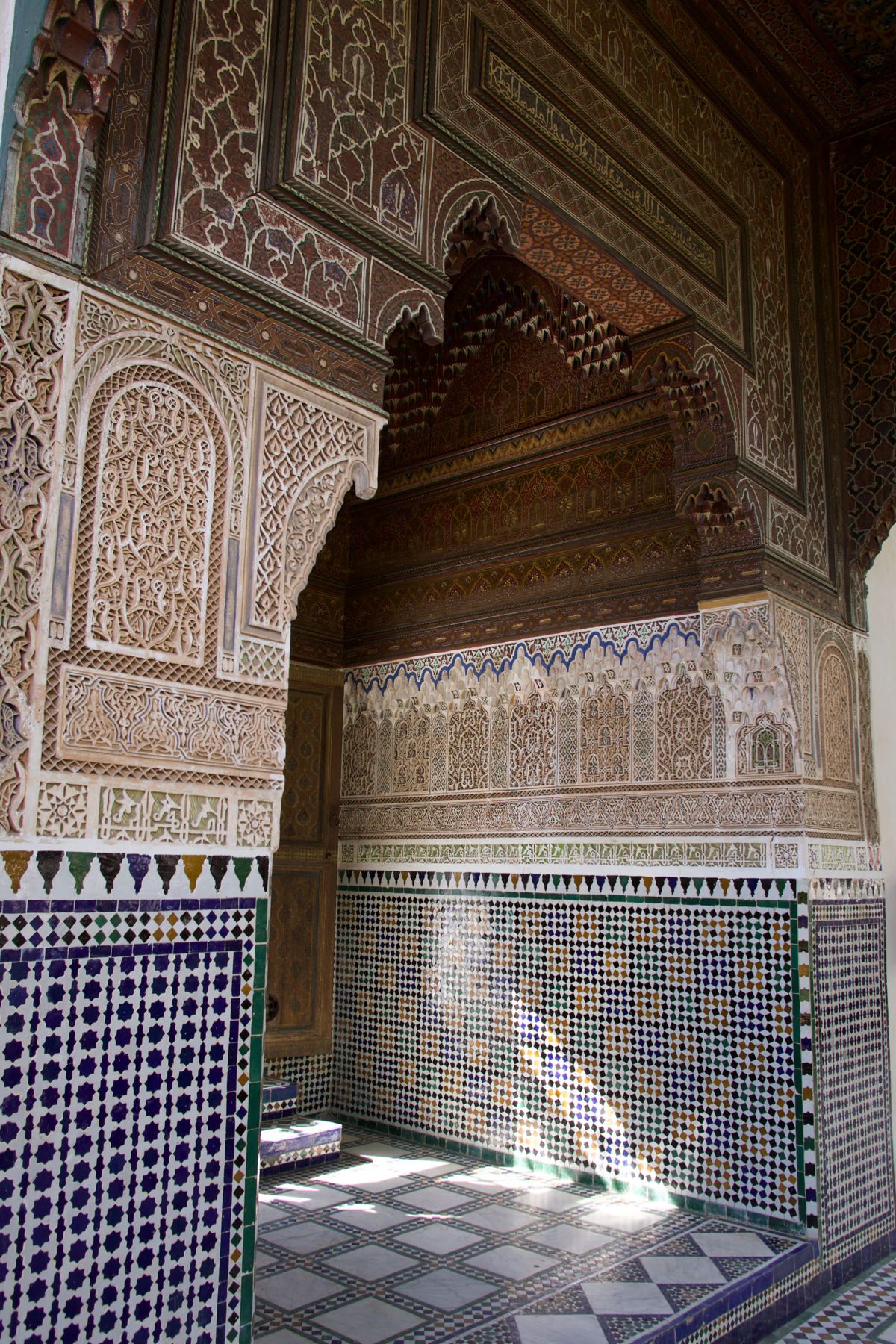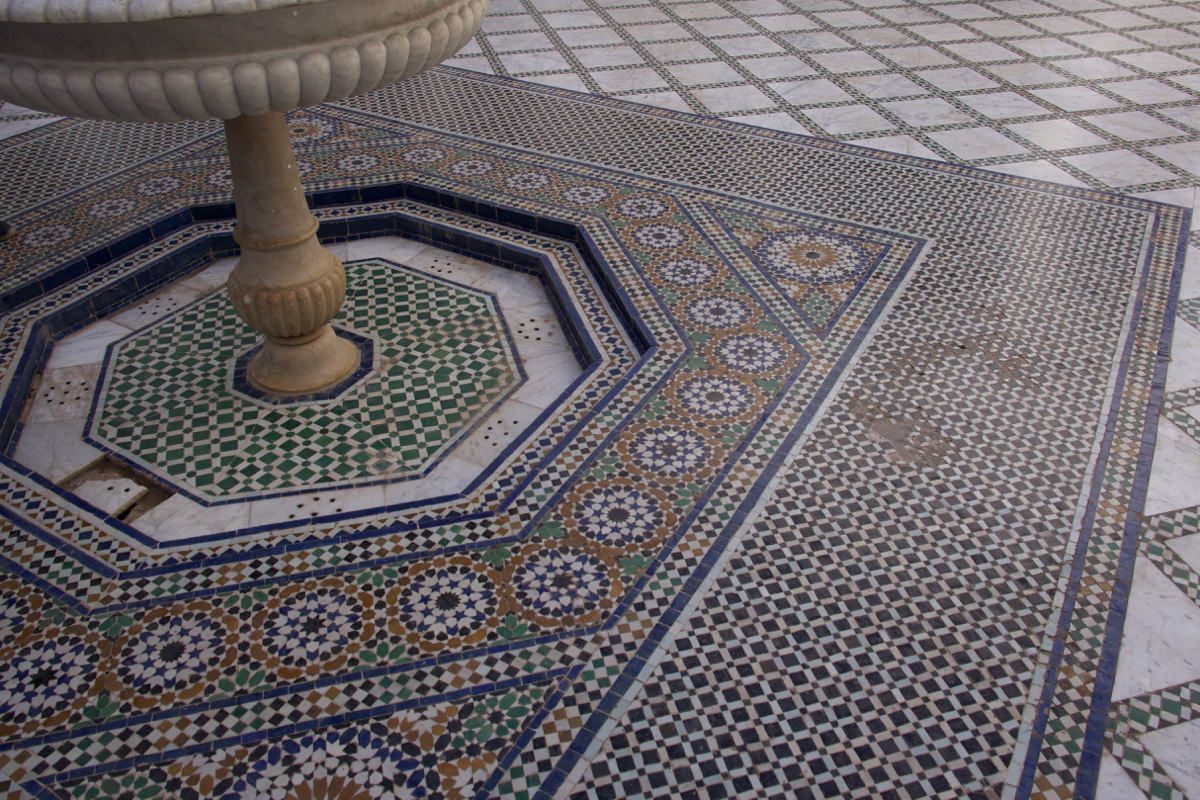 The mellah — the historically Jewish quarter of Marrkech's medina — was where we saw the majority of fresh food and produce being sold. Everything from fruits and veggies, fish, to chickens killed on the spot. Definitely interesting to walk through and experience — a place locals frequent daily for meal ingredients. I was actually able to cop some hash from a dude in the mellah. Was a little sketched out at first when he asksed me to come into a small alley, but in reality it was within shouting distance of the main mellah, so I wasn't too worried. Had my girlfriend hold the rest of my money, phone, and camera, and it actually wound up being a super easy buy from a chill dude. I learned later on that guys dressed in track suits are usually pretty legit for buying hash from. I overpaid, but it was still cheap and worth it, lasting most of the trip.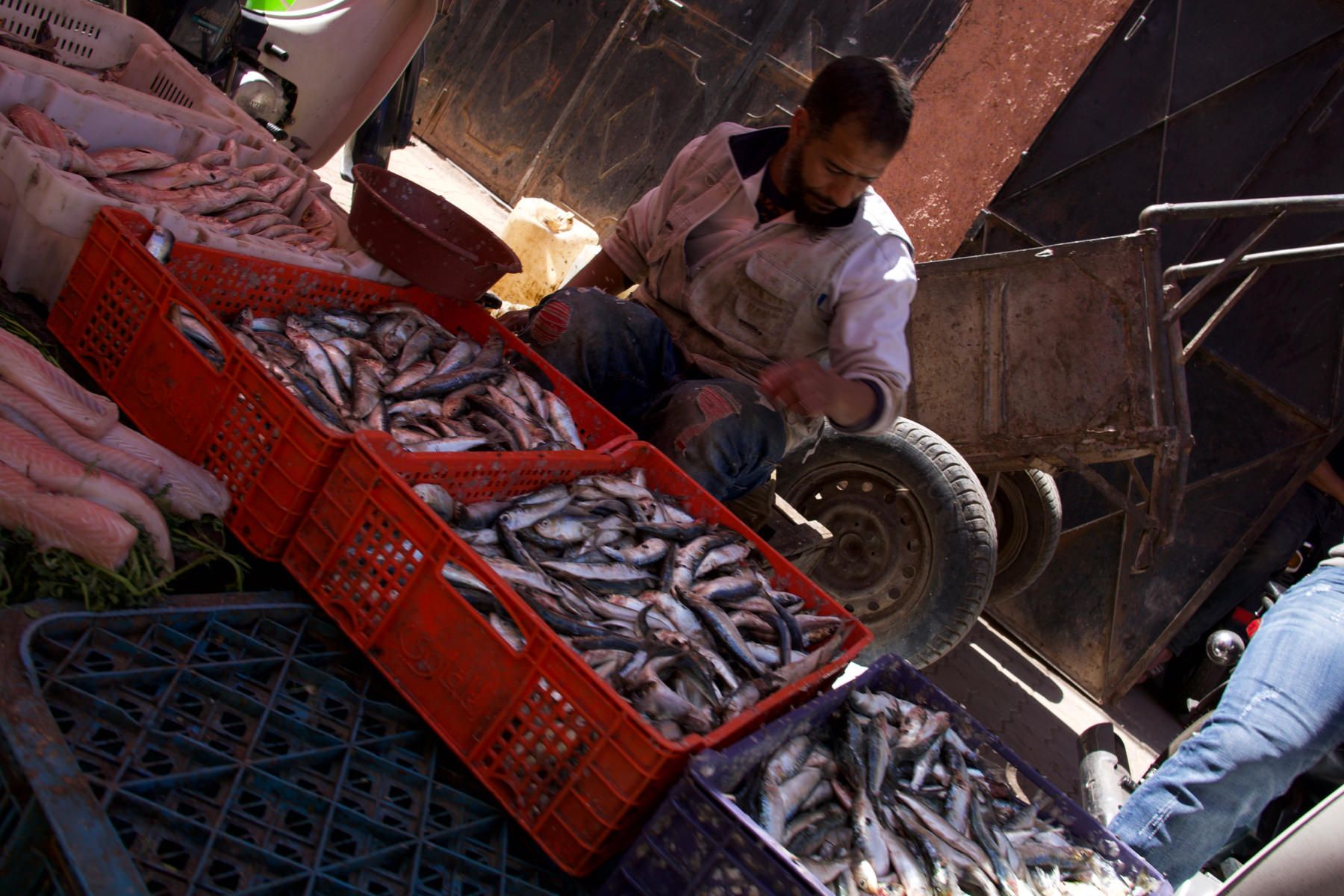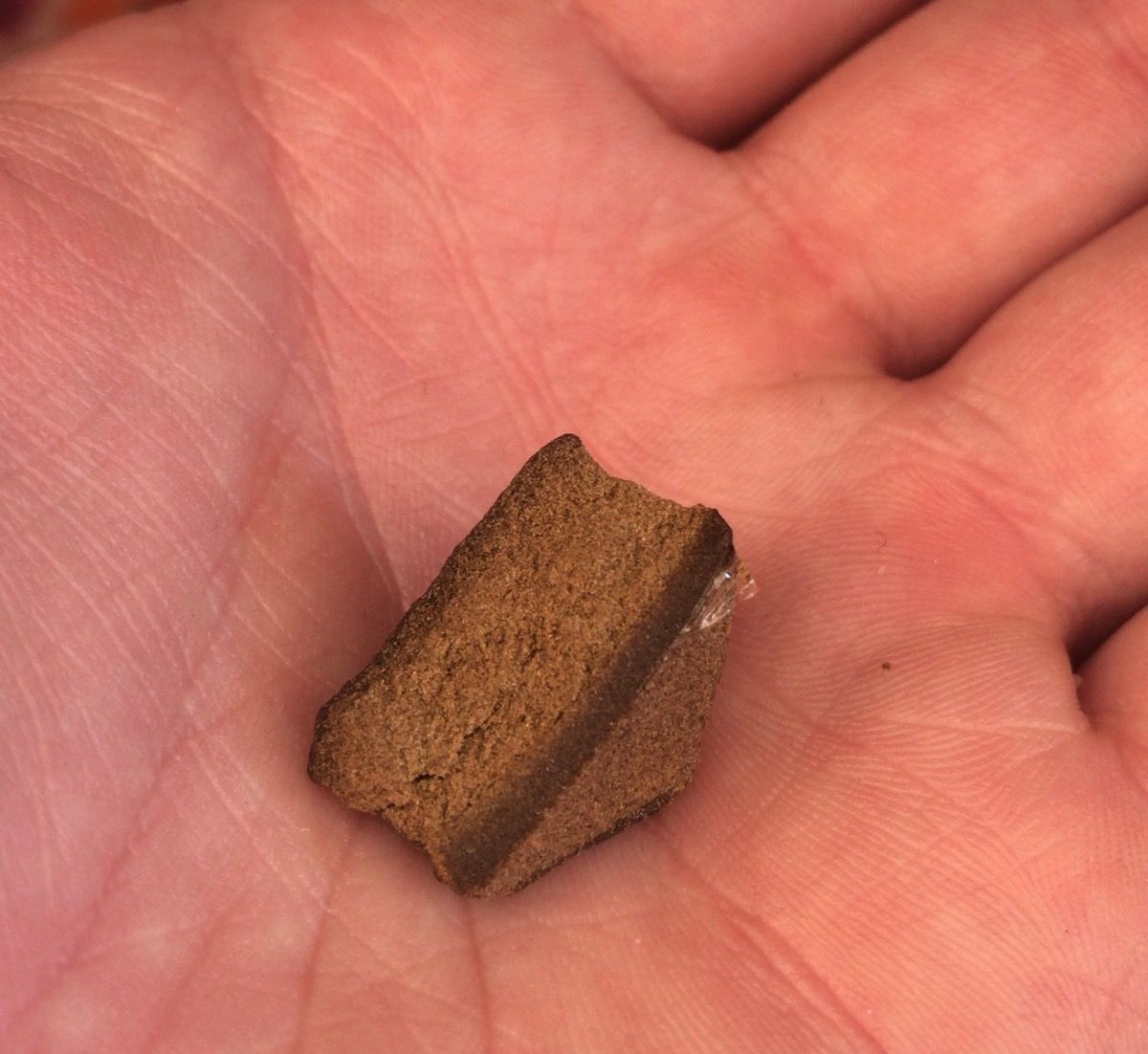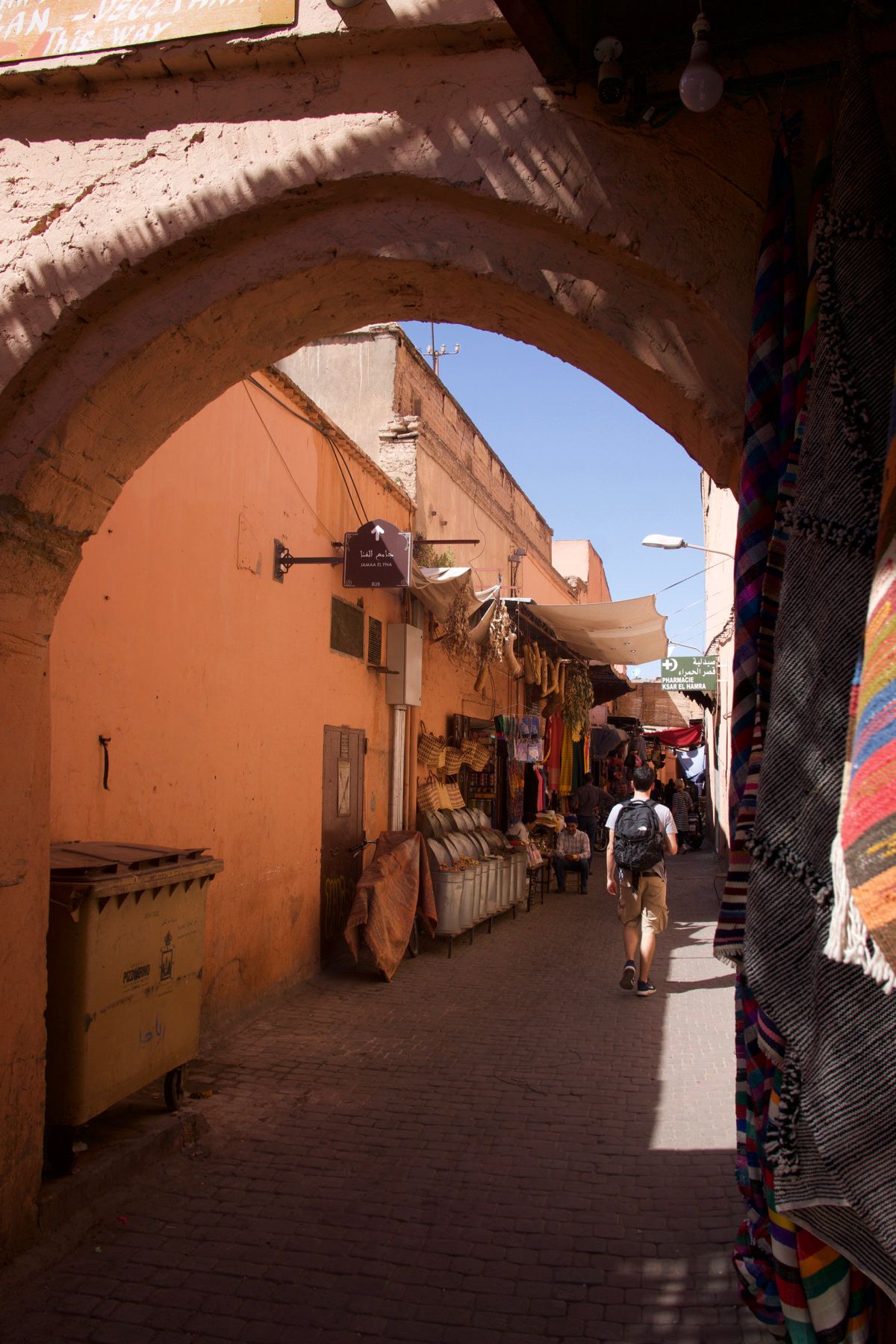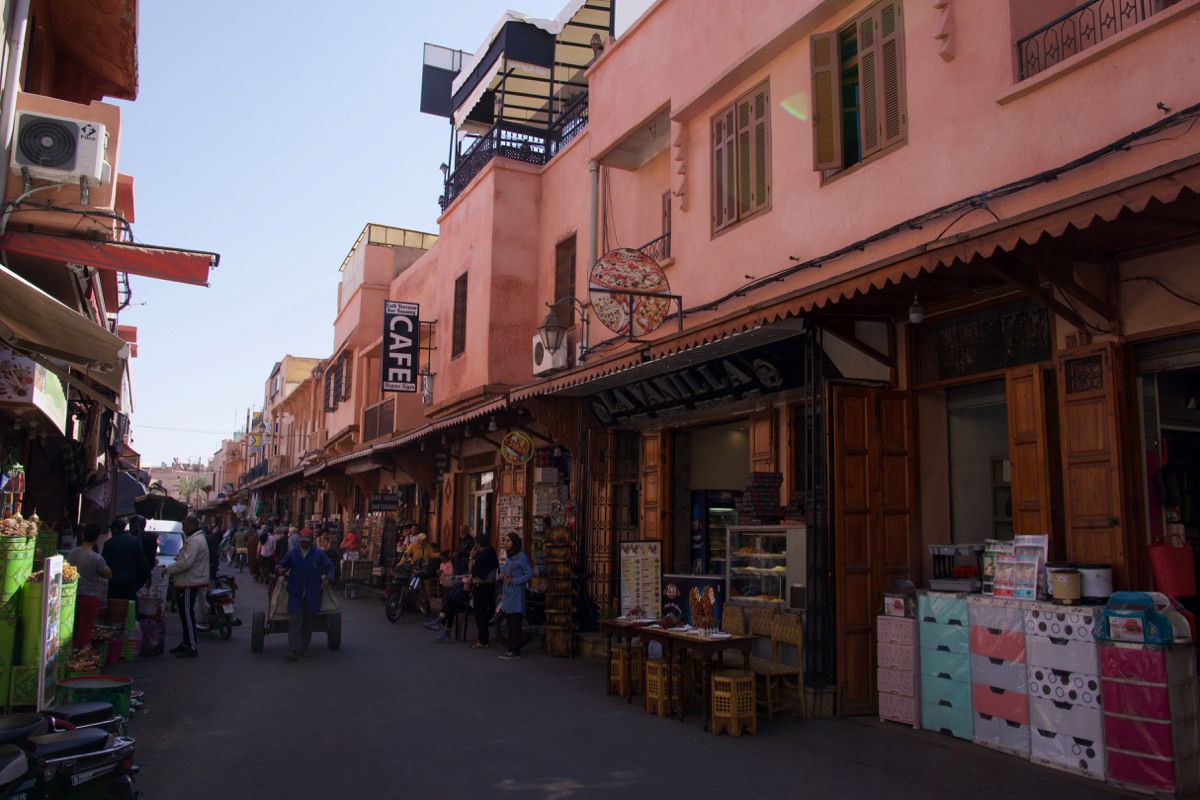 Saddien's Tombs are located in the mellah, and are another good photo opportunity and look into the intricacy of century old Moroccan architecture and design. Another one of Marrakech's more famous mosques, Mansouri mosque, is also adjacent to the tombs.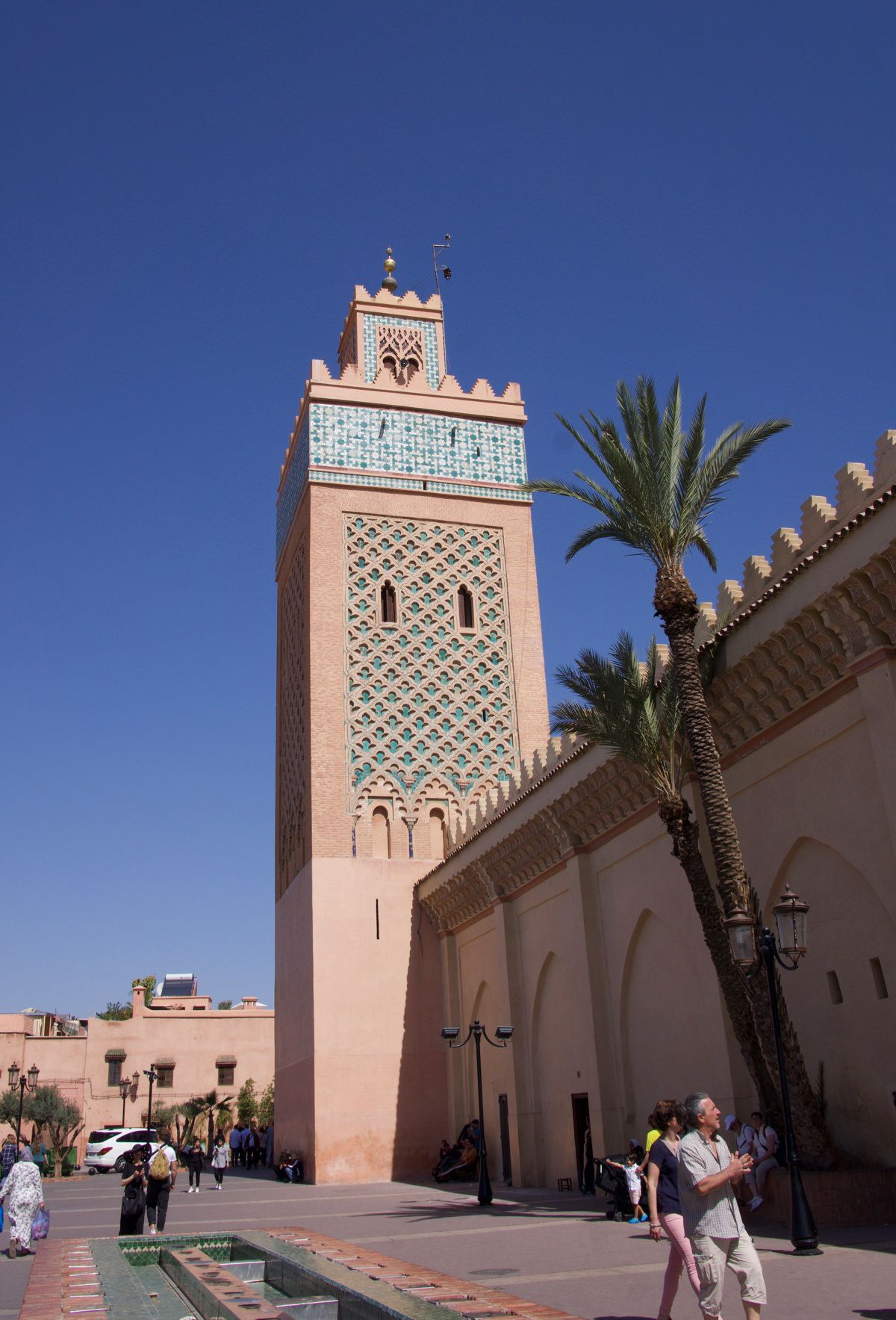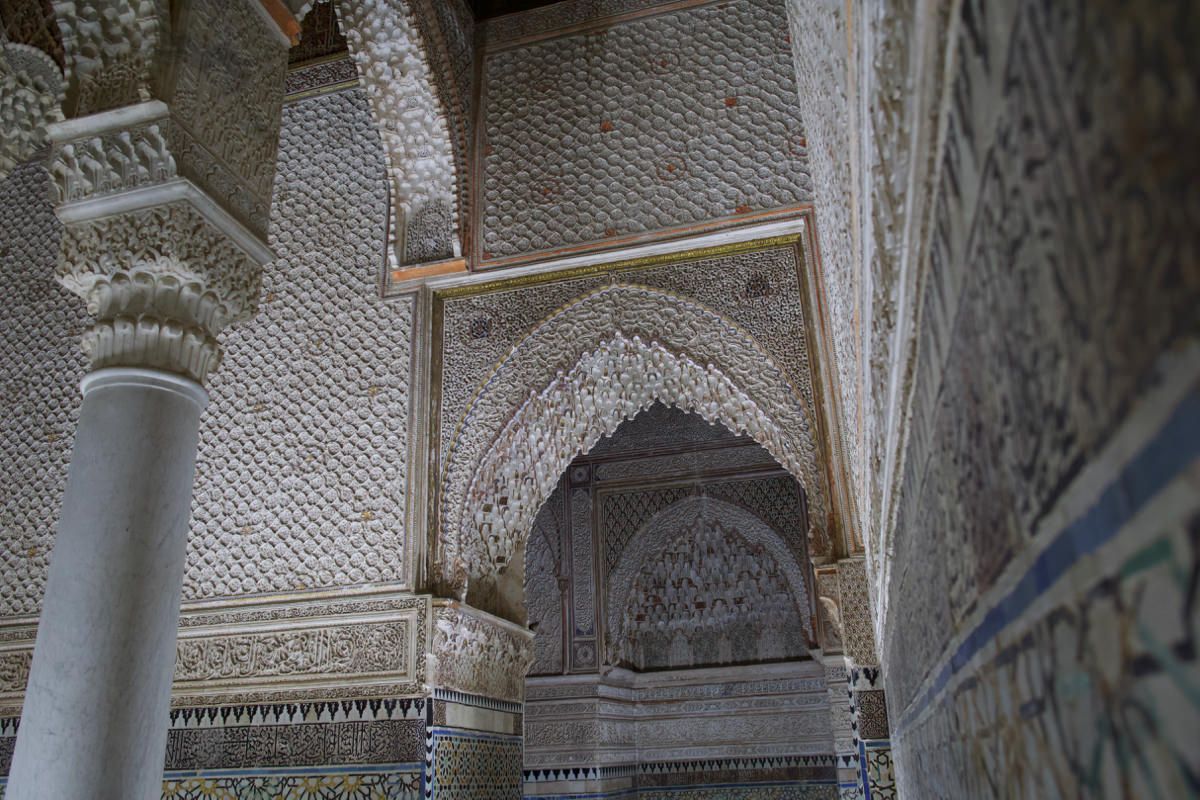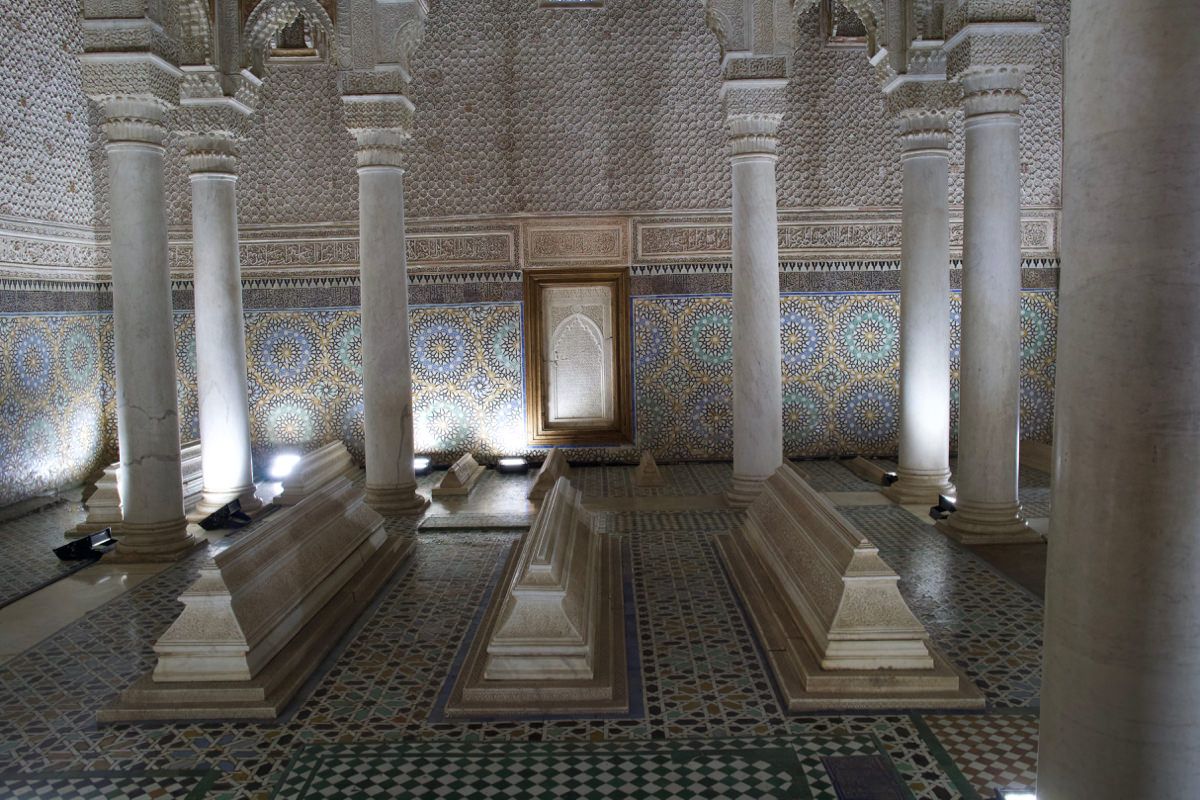 The combination of walkability, Jma El Fnaa and Medina, historical sites, and not-too-big size made Marrakech really feel like the overall prototypical Moroccan experience. We were bummed to leave, as after a few days we really started to feel at home and get acclimated, but we were excited to start the rest of our trip and get on the road to explore the rest of Morocco. More on our road trip, here!
---
The most important things I can recommend for Marrakech are:
Jma El Fnaa must be visited at night, the experience is totally different than the day.
Marrakech's medina is quite a bit smaller than Fes', so while there's plenty of souks to visit, plan on venturing out of the old city.
Most of what's to see in the city is walkable, so don't worry about taxis unless you're on a super tight schedule.