The first question people ask me every time this Moroccan trip has come up in conversation is, "Why Morocco?".  To be honest, my girlfriend and I didn't really expect to visit Morocco when we started thinking about our next trips.  I had heard about some places, namely Marrakech and Casablanca, but for the most part, the country itself was a mystery to me.
Plane tickets from Chicago to Marrakech were expensive at USD $800+, but after some extensive research, we decided that Morocco looked incredible, and was just as good as any other place we hadn't yet been to.  We booked our tickets and started to decide what the hell to do.  Morocco isn't a large country, but it's large cities and destinations are fairly spread apart.  Each section of Morocco has it's own feel and impact on you — and having been able to experience most of the country with much appreciation, I feel it would be a crime not to drive yourself around Morocco.  Sure, hanging around places like Marrakech and Fes can soak up a week, but the sheer unexpectedness and enjoyment out of this road trip around Morocco cannot be summarized in words or photos alone.
After a bit of an unfortunate 24-hour delay in Chicago due to an engine failure before take-off we made it to Madrid and then shortly after connected to Marrakech.
Our driving route (counter-clockwise) — all-in-all about 36 hours of total driving.
After lots of research (Trip Advisor and /r/Morocco are great resources) we went with a local Marrakesh company, Medloc Maroc.  €25 a day for a manual, diesel, Dacia Logan w/ 2 drivers, and unlimited mileage.  Can't recommend them enough.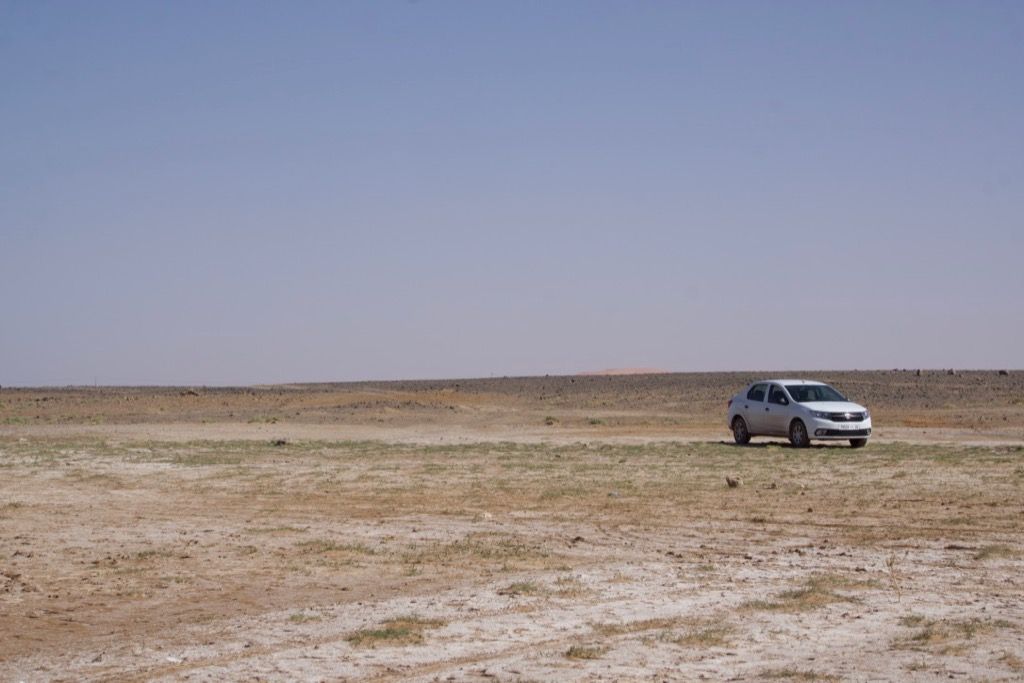 We didn't pick up our car until we were leaving Marrakesh as there wasn't really point to having it while we were there.  Marrakesh is very walkable and taxis are very cheap.  Medloc Maroc delivered the car to our riad, which made things hella convenient. After some paperwork and signatures (any many photos of the exterior), we were off.  Was also very relieving that the car came with roadside reflective cones, reflective vest, and everything you'd need to change a flat — after all, we really weren't entirely sure what we were in for.
Although we didn't rent our car until we were leaving Marrakech, make sure you peep the post about our time in the city beforehand.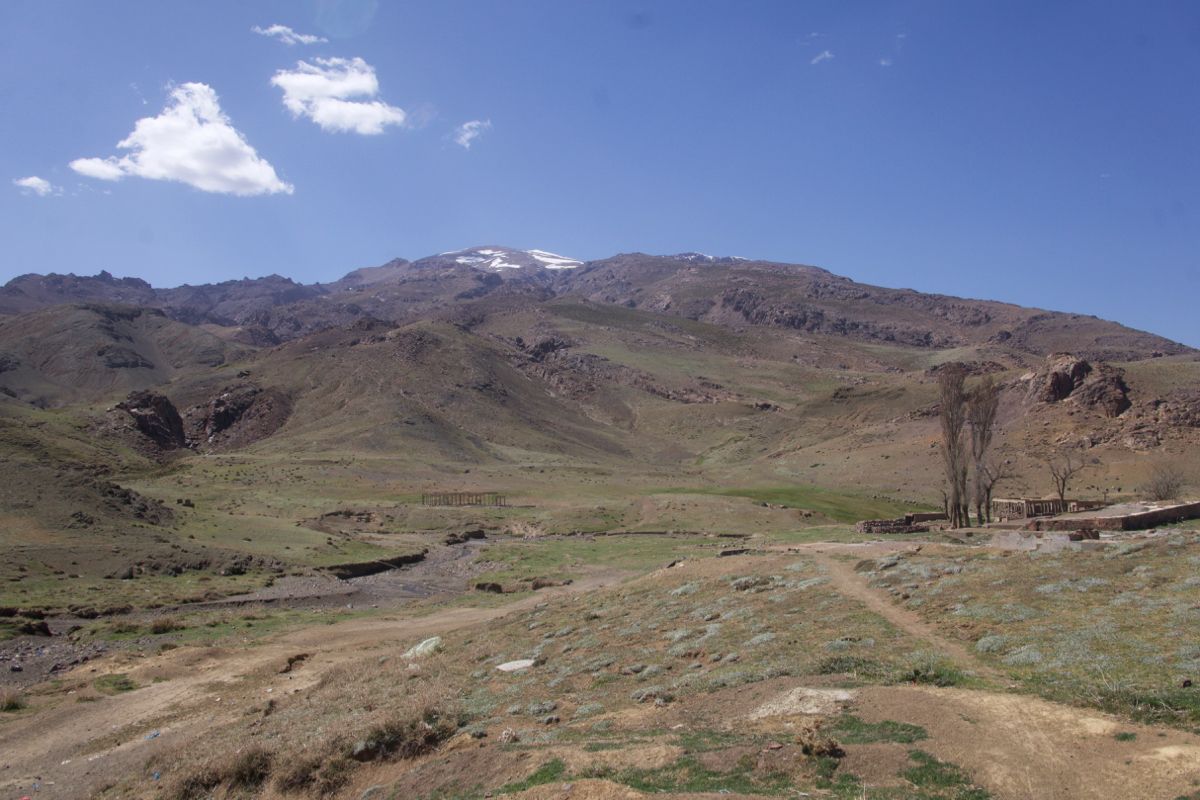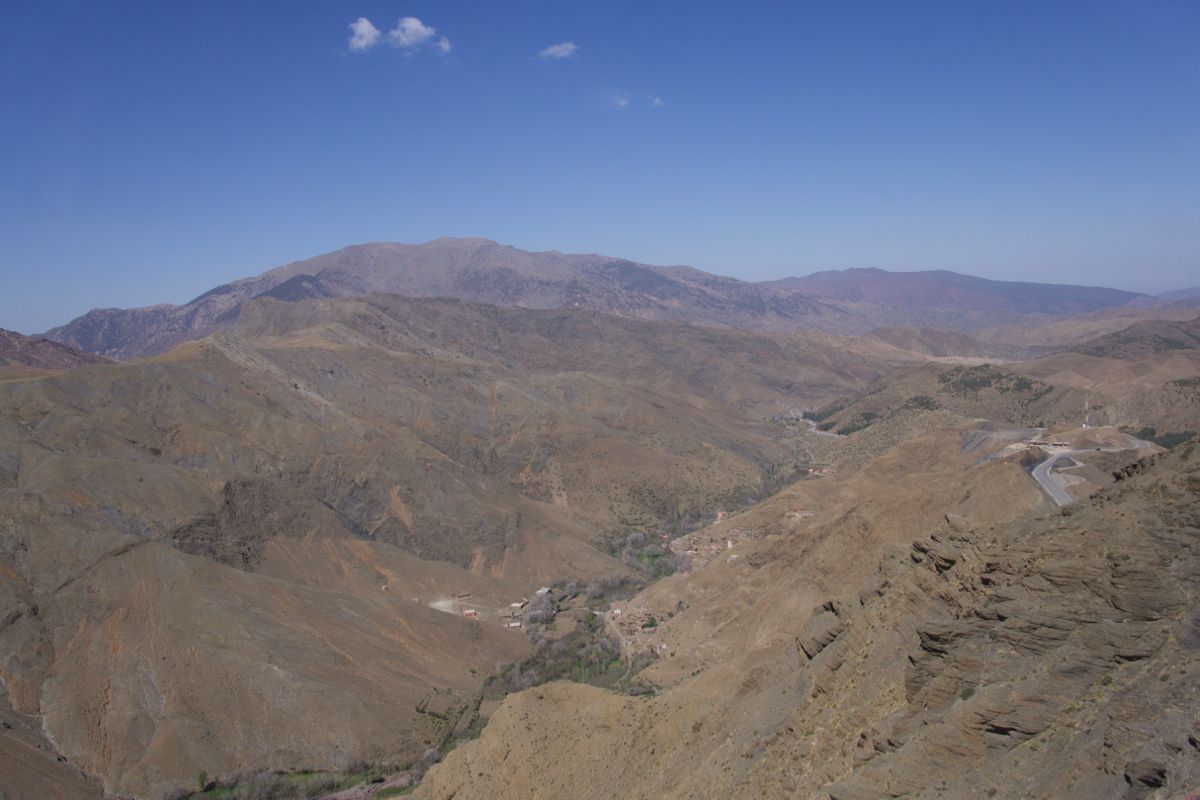 Our first big destination after leaving Marrakech was Merzouga — really the last Moroccan civilization in the southeastern part of the country before hitting Algeria.  It would have taken us about 10 hours to drive straight there, and not having solid knowledge on how traffic or road conditions would be (plus, who the fuck wants to spend an entire day in a car on vacation) we planned on stopping about half way there in a small town called Skoura.
But before we arrived in Skoura, we made sure to stop at Aït Benhaddou, an extremely old kasbah and possibly one of Morocco's most popular attractions.  Featured in cinema such as Game of Thrones and Lawrence of Arabia, Aït Benhaddou is a good look into the more secluded historical fortresses that are scattered throughout Morocco's more rural areas.  A must-visit during a Moroccan trip.
Aït Benhaddou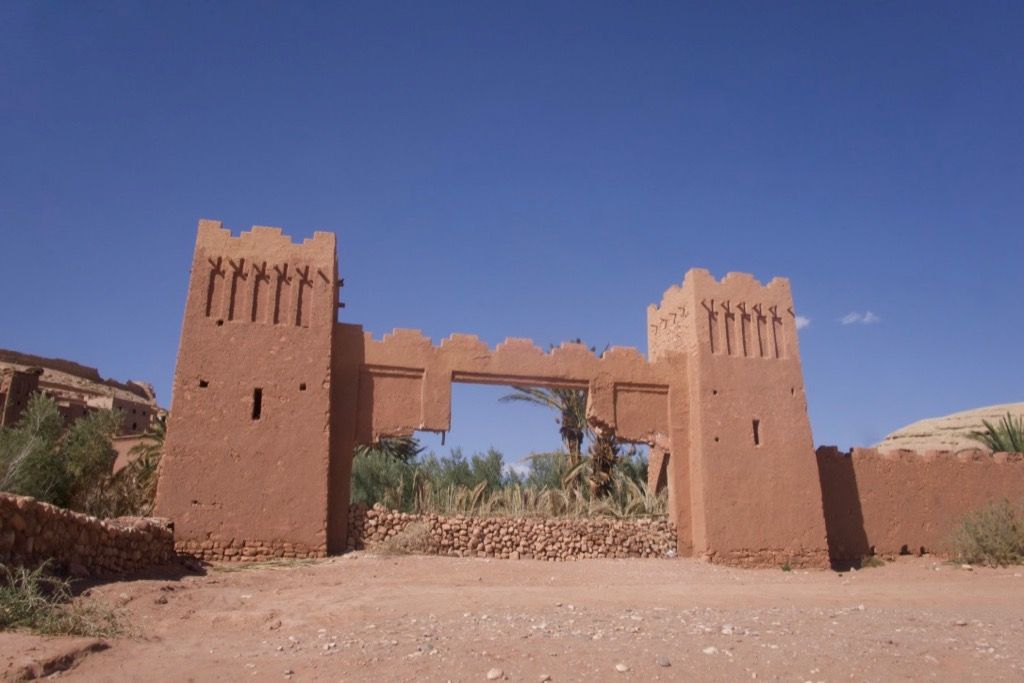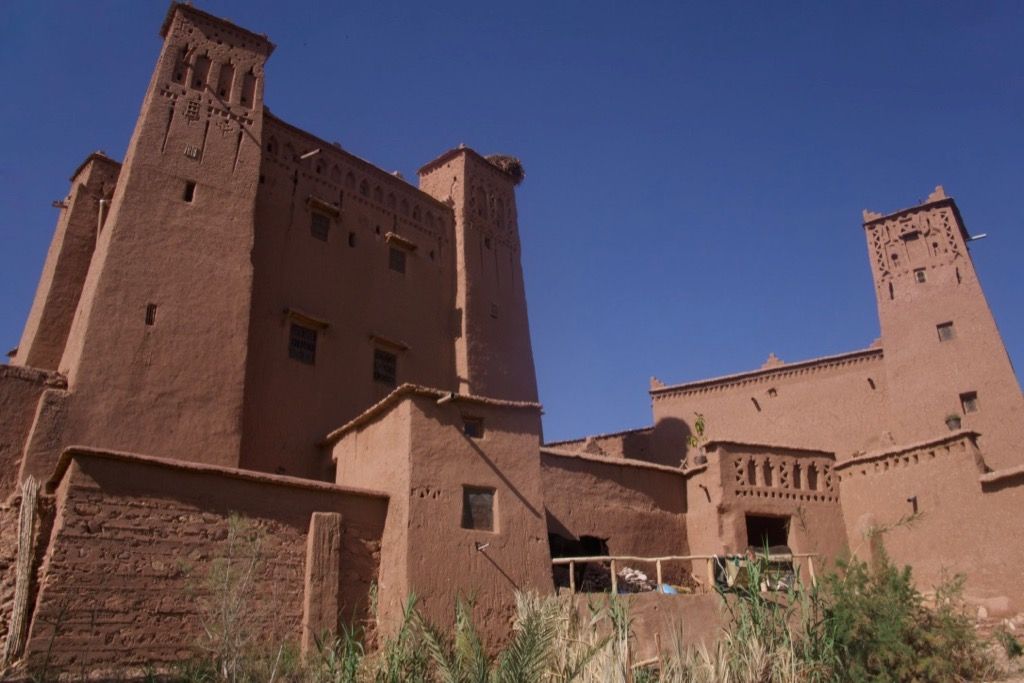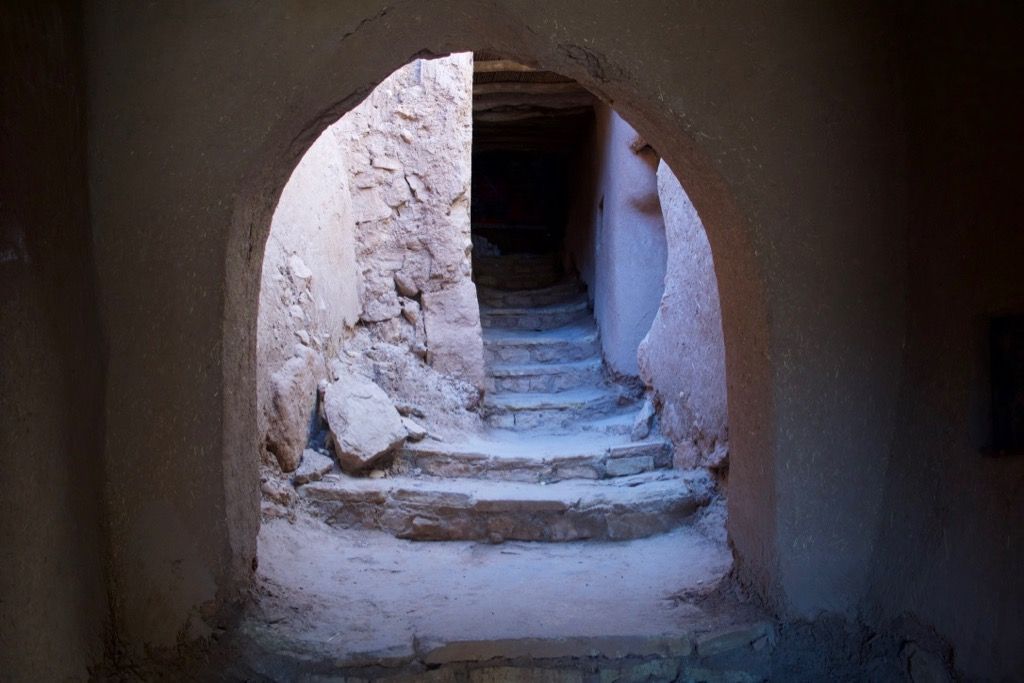 While the kasbah is not techincally inhabited anymore, people that live in the surrounding community make the daily trip over to set up shops to sell goods, much like you'd find in a medina anywhere else in Morocco.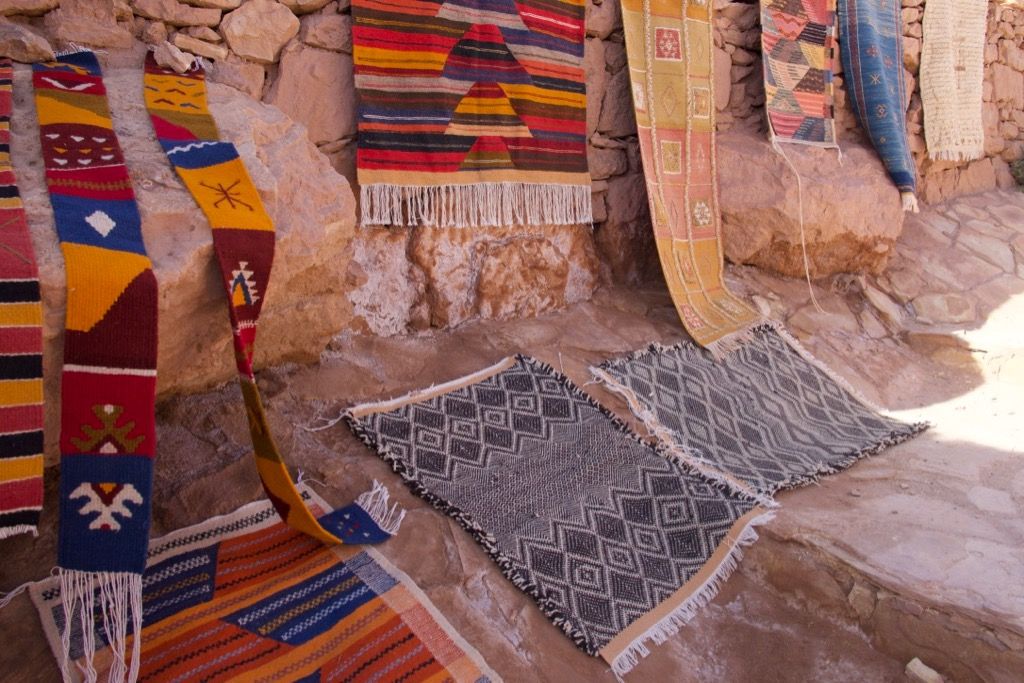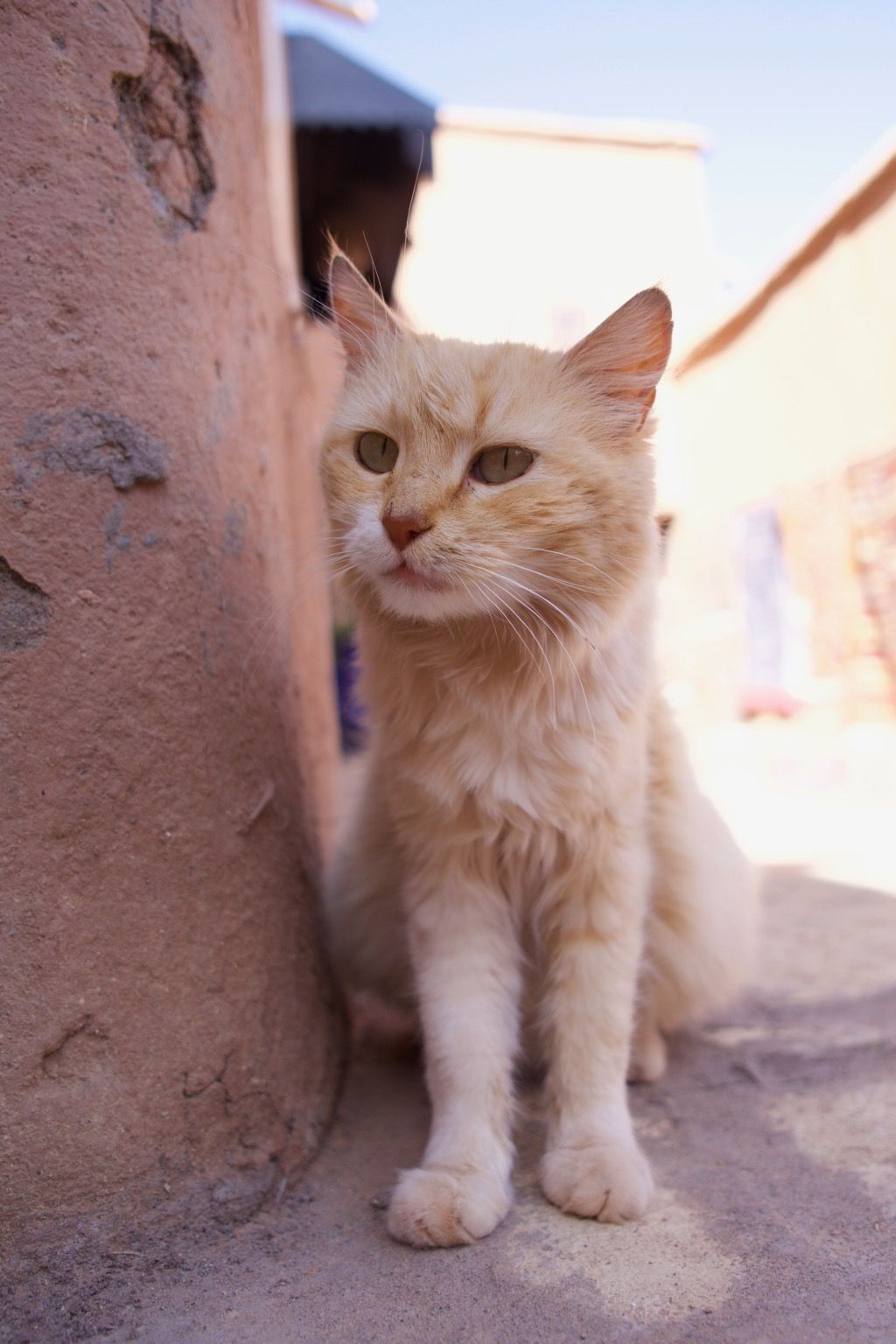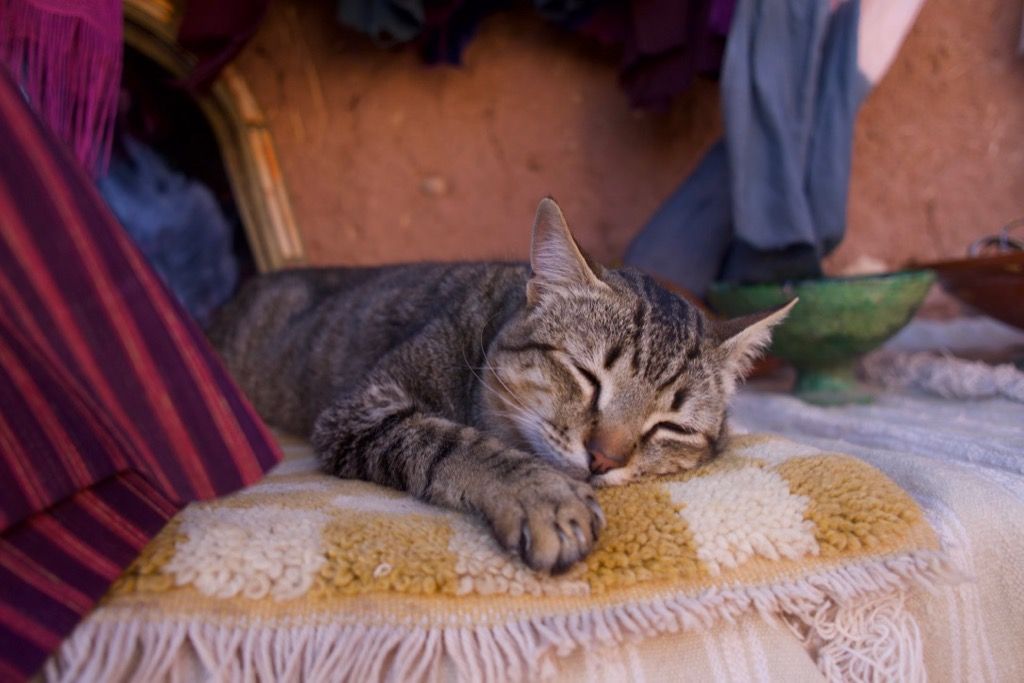 Aït Benhaddou itself is really a pretty decent hike.  You'll more than likely find yourself making your way towards the top after checking out the initial nooks and crannies, plenty of good photo opportunities.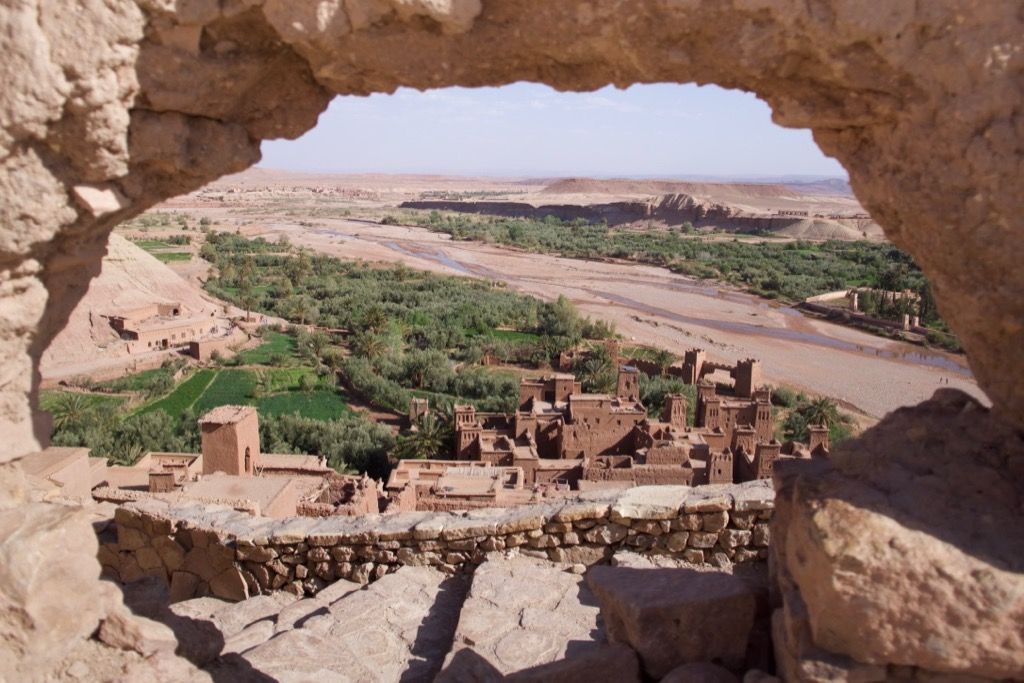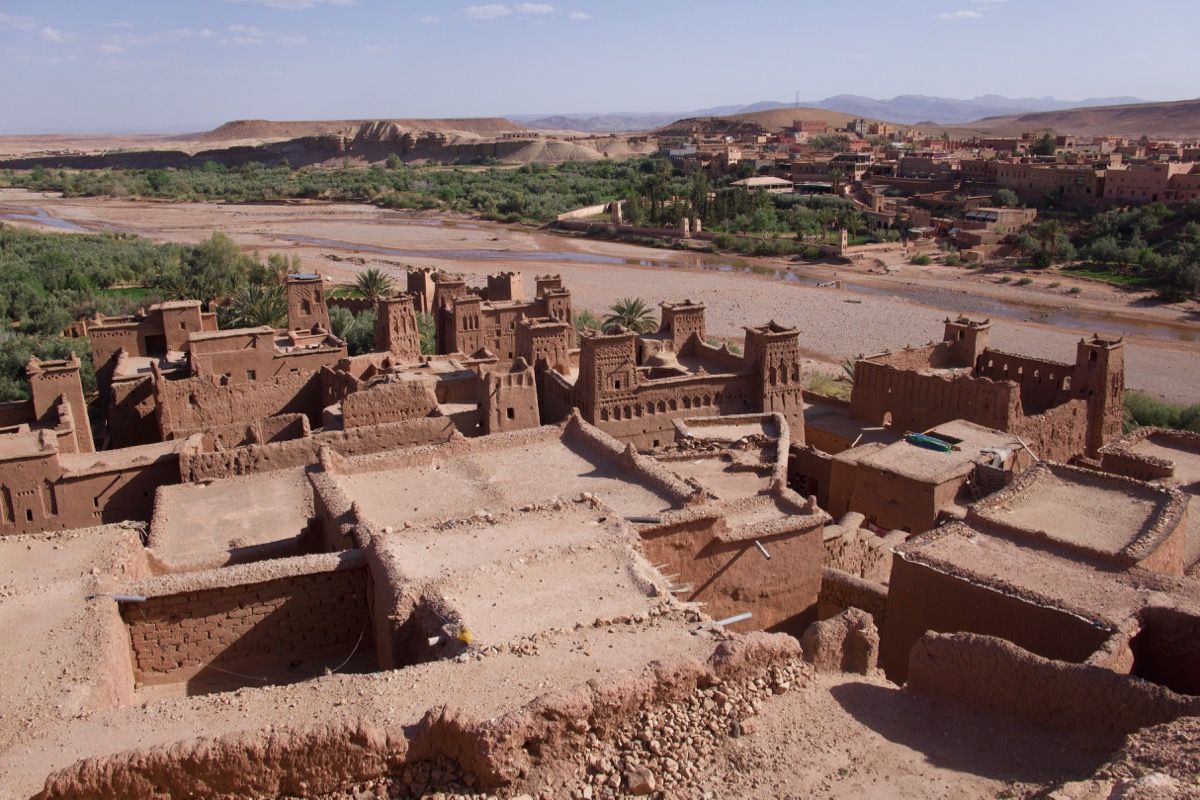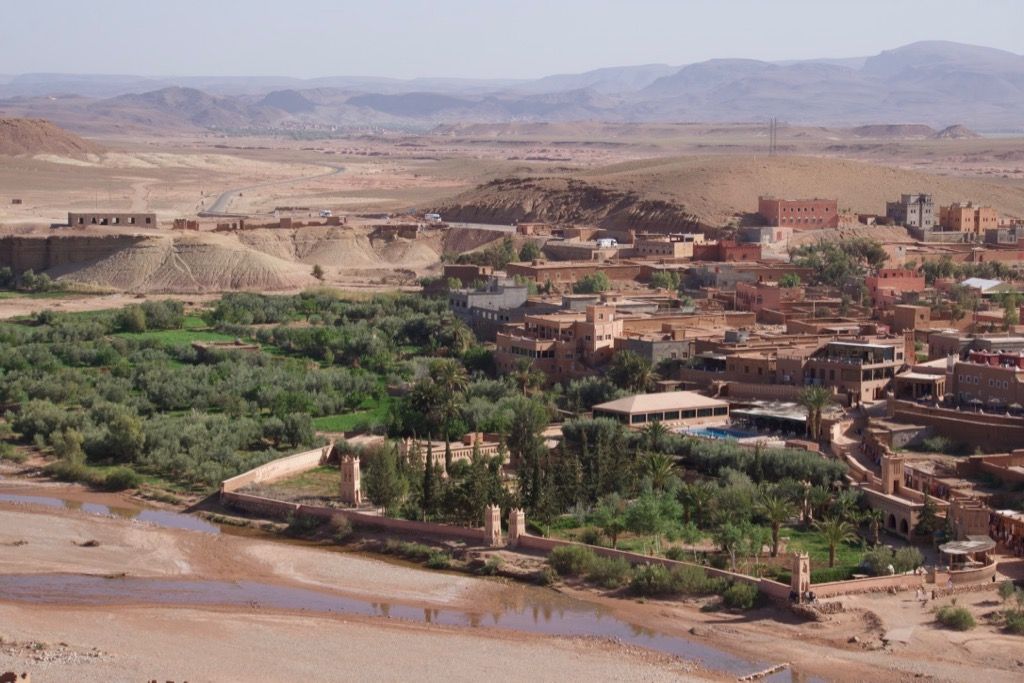 After checking out Aït Benhaddou, we had one more place we wanted to stop before our overnight stay in Skoura – Dades Gorge.  The Dades area is a red, canyon like collection of rocks and valleys.  Reminded me a lot of the Southwest part of The States.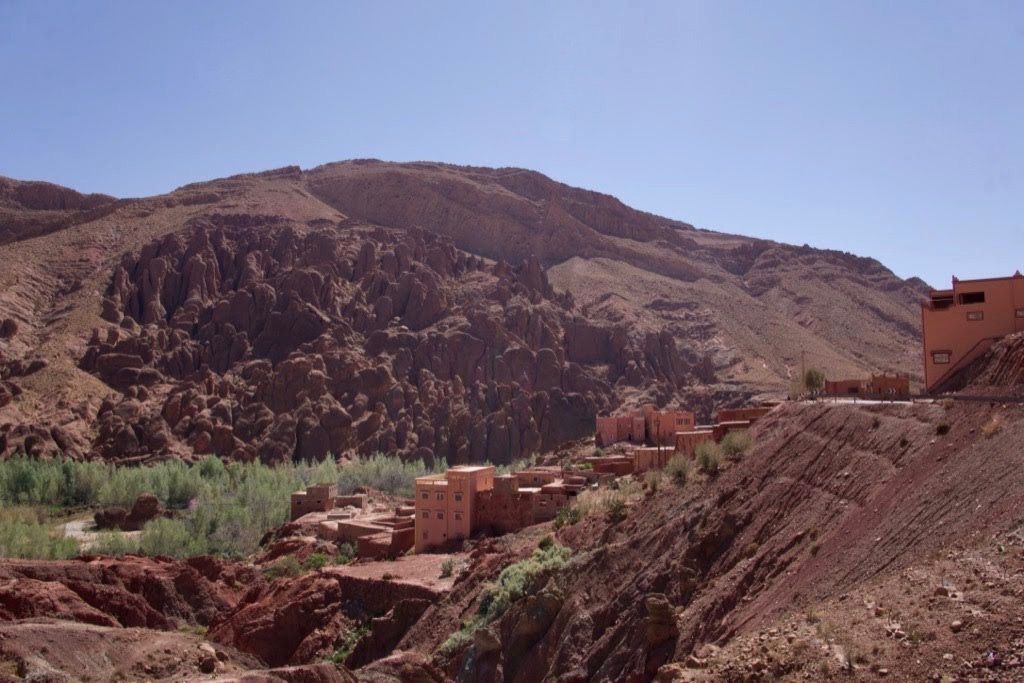 It's an amazing area to drive through and is another testament to the necessity of driving yourself around Morocco.  Many small towns line the area, which is known for its rose cultivation and rose byproducts.
Skoura
When we arrived to Skoura we didn't plan on doing much other than hanging out at our accomodation, Auberge Kasbah Tiriguioute. While we were certain we'd enjoy it, our night in Skoura wound up being one of the most memorable of the entire trip. The only guests at our huge Kasbah, it was a welcome peer into the overall dichotomy of Moroccan population density.  Small Moroccan towns have an entirely different vibe than larger ones like Marrakech or Fes, and Skoura reaffirmed the kindness of Moroccan people — notably in the smaller towns and cities.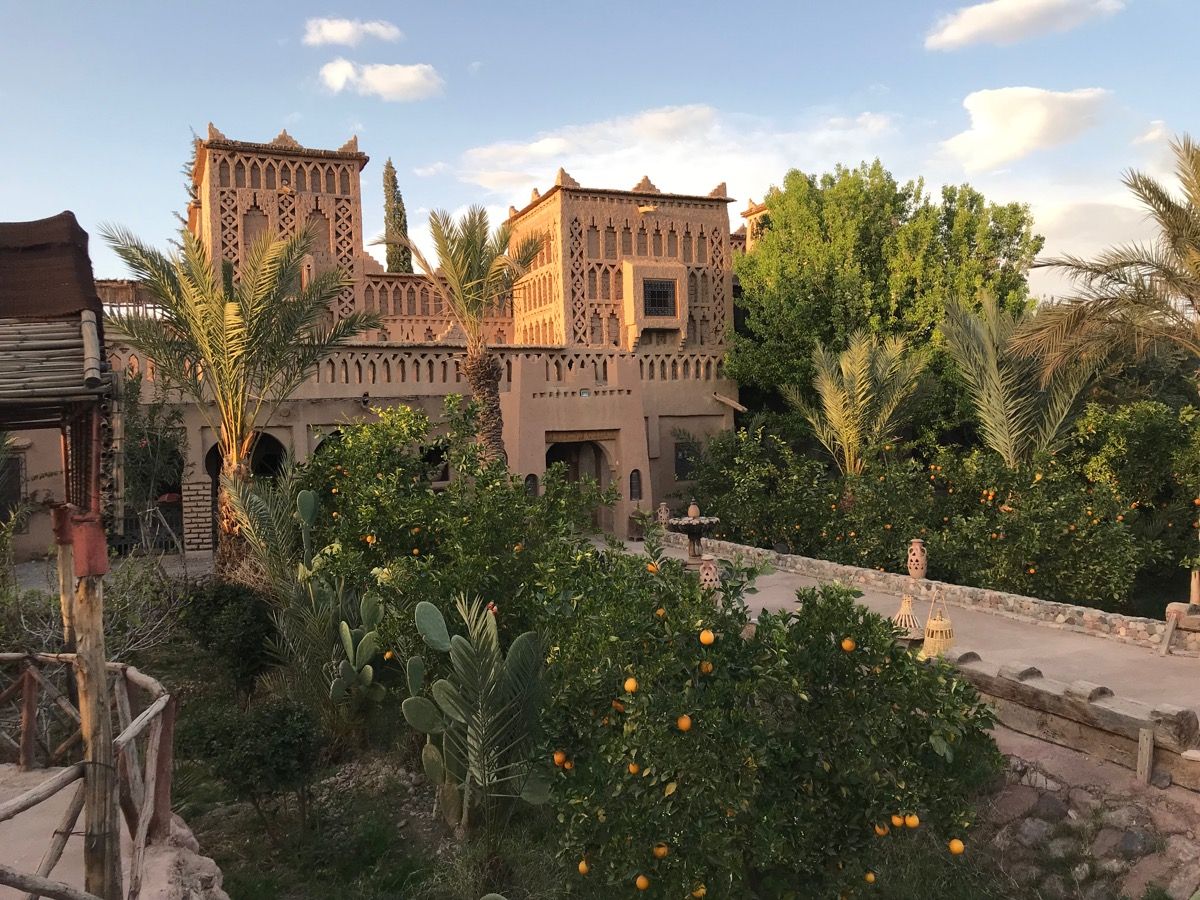 Our host was more than accomodating (as are all Moroccan hosts) offering tons of mint tea, Moroccan snacks, incredible free breakfast that could sell for $40 in hipster cafes here in the US, and for a small fee — a fantastic dinner consisting of Moroccan salad and one of Morocco's signature dishes, tagine. Plenty of orange trees all around the property, oranges to eat literally right from the branch. The kasbah also had a decent sized pool, although it was too cold to swim during our time there.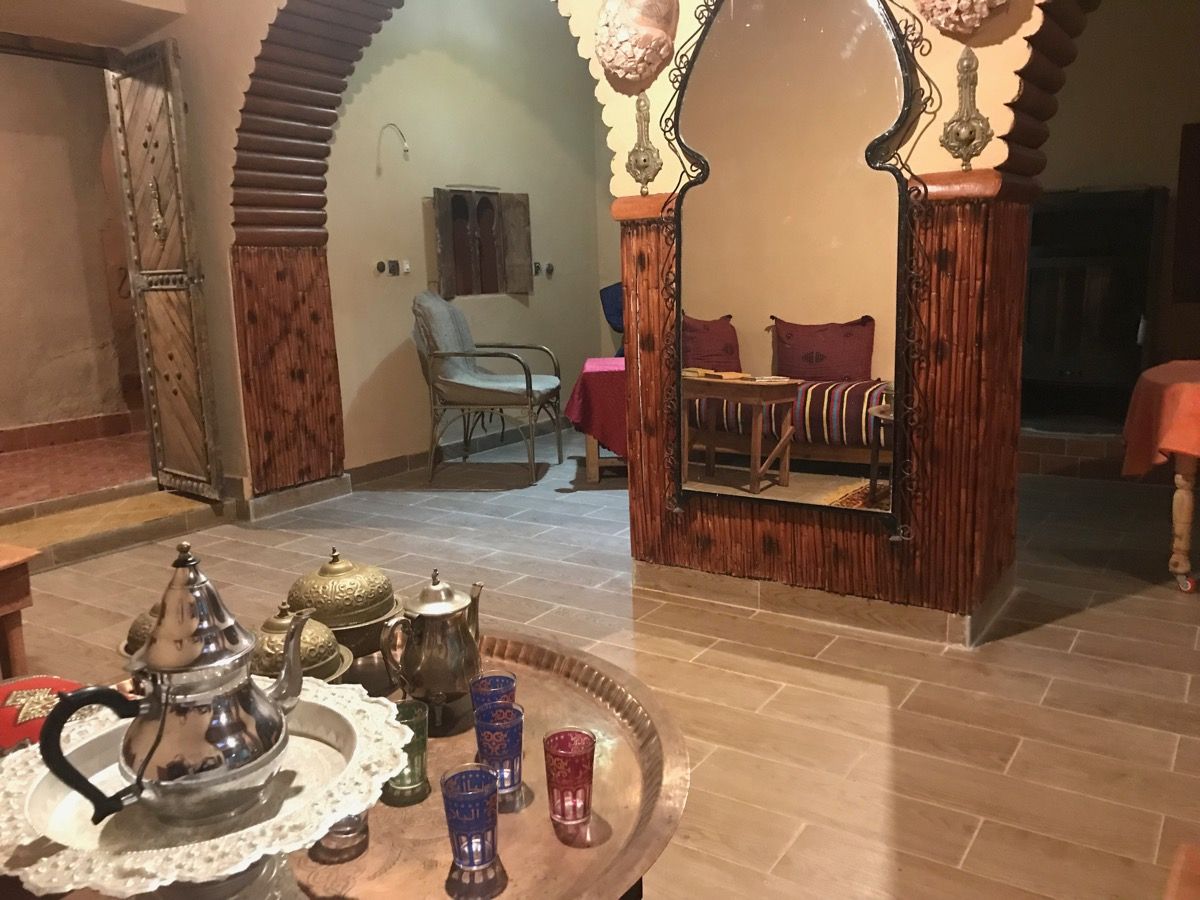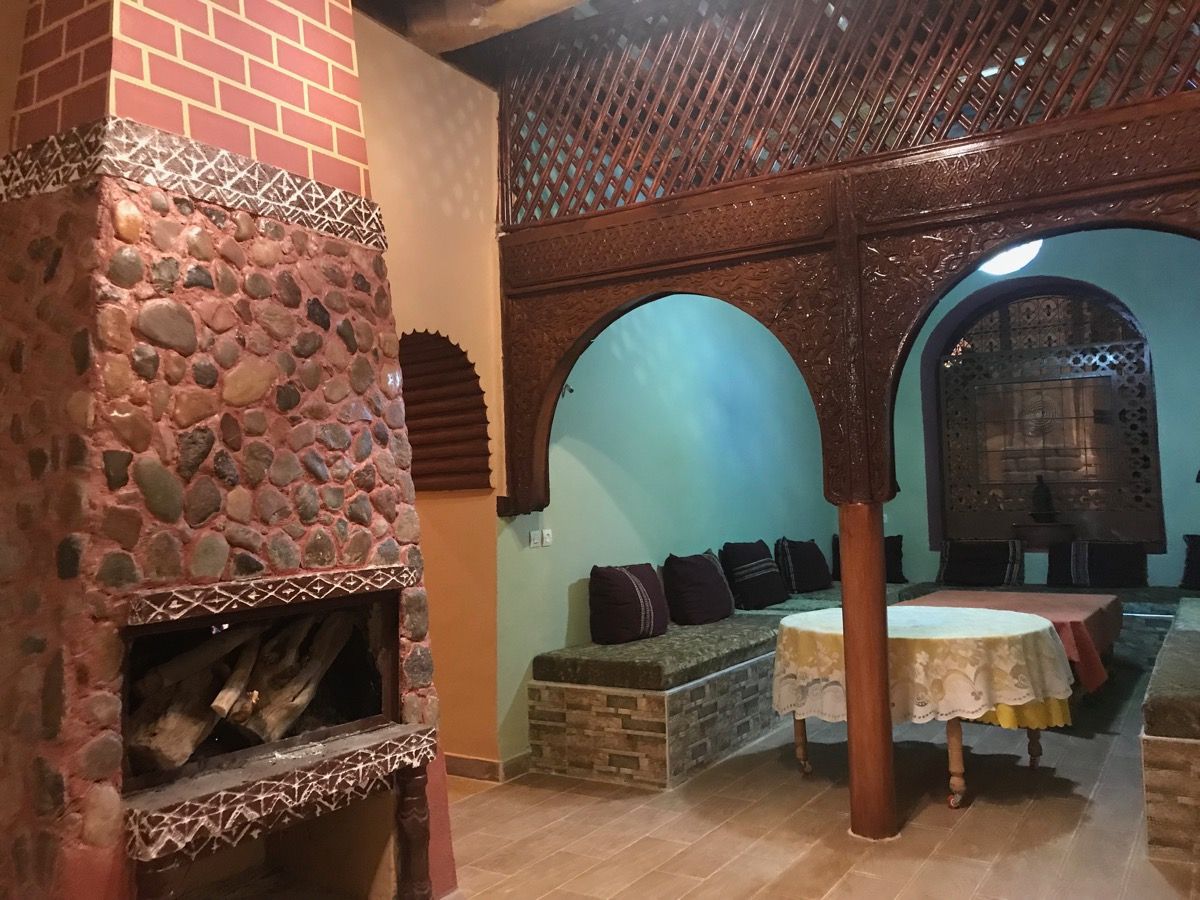 The kasbah in Skoura could not have been better. Up until that point we realy had only experienced Marrakech as far as Moroccan towns and cities come, and it was a welcome change to see the flip-side of Moroccan civilizations.